There are a number of key parameters that must be considered when implementing a LCD into an industrial panel PC or HMI (Human Machine Interfaces) design. They include size, resolution, brightness, touch control and display interfaces. The display interface that is used to connect to the panel PC embedded board is a critical factor in selecting a suitable display.
LCD Display Interfaces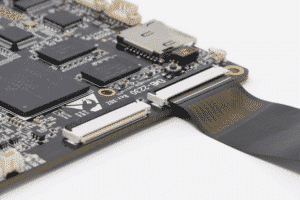 For the past two decades, parallel RGB and serial LVDS (Low-Voltage Differential Signaling) have been the two major display interfaces in the industrial LCD applications. Most of the smaller displays, like those 3.5" 4.3" and 5" LCD touch panels or HMIs, use RGB parallel display interface. Larger displays, like 7", 10", 12", 15", 21" or larger for many of the industrial touch panel PCs, are connected with LVDS interface.
With the emerging of IoT (Internet of Things) systems with displays and interactive display systems, new generation display interfaces like eDP (Embedded DisplayPort) and MIPI (Mobile Industry Processor Interface) DSI (Display Serial Interface) are starting to make their way into the industrial panel PCs and HMIs. These interfaces have been specifically designed to be simplistic and cost-effective in industrial LCD applications and provide higher data bandwidth, scalability for large and small displays.
Solutions for Long Life Cycle Support
Another consideration of display interface selection is LCD display product life cycle. Many eDP or MIPI DSI interfaces displays in the market today are tied to the consumer markets like notebooks/tablets/smart phones and thus don't support the long life cycle generally required by traditional industrial panel PCs and HMI applications. Solutions like eDP to LVDS, MIPI DSI to LVDS or RGB bridges are implemented to panel PC embedded boards to address the long life span product requirement.
The following are display interfaces supported by some of our panel PC embedded boards:
| | | | | |
| --- | --- | --- | --- | --- |
| Embedded Board Model | Processor Platform | Default Display Interface | LCD Interface Support | Panel PC/HMI Example |
| EMB-2230 | NXP i.MX6 | LVDS | LVDS, LVDS to RGB | PPC-4210 (LVDS), 5" touch panel kit (RGB) |
| EMB-1200 | NXP i.MX6 | LVDS, RGB | LVDS, RGB | PPC-4107, 3.5" touch panel kit (RGB) |
| EMB-2237 | NXP i.MX8MM | MIPI DSI | MIPI DSI, MIPI to LVDS, MIPI to RGB | PPC-4907(LVDS), 5" touch panel kit (RGB) |
| EMB-2238 | NXP i.MX8MQ | MIPI DSI | MIPI DSI, MIPI to LVDS, MIPI to RGB | PPC-4707 (MIPI), PPC-4310 (MIPI) |
| EMB-2610 | Intel Atom Z8350 | eDP, MIPI | eDP, MIPI, eDP to LVDS | PPC-6610 (MIPI), PPC-6612 (eDP) |
| EMB-7610 | Intel Celeron N3450 | eDP, MIPI | eDP, MIPI, eDP to LVDS | PPC-6710 (MIPI), PPC-6712 (eDP) |
For more information about our panel PCs with different display interfaces, visit our product pages at Industrial Panel PCs or contact us today.