One of the most expansive technologies that have redefined safety, efficacy, and errorless services is the barcode reader inside rugged tablet pcs. With the help of a tablet with built-in barcode scanner, professionals can improve inter-team collaboration through real-time data management and collection. Barcodes are implemented in many industries including healthcare and warehouses to reduce errors by limiting the need for hand entered data.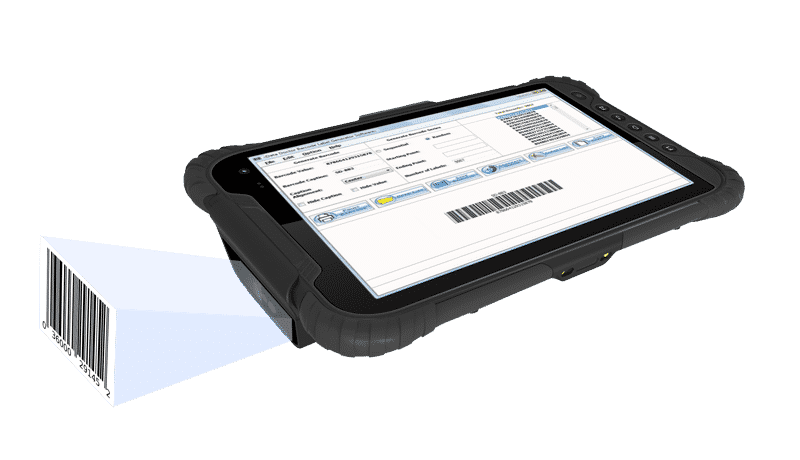 Can a Barcode Reader Read Any Barcode?
There are two types of barcode styles, each with a series of encoding methods. A UPC barcode is an example of 1D (or linear) which is code that are made up of vertical lines of varying spaces and thicknesses. Some other 1D barcode encryption types include EAN, Code 39, ITF and many more. There are also 2D (or matrix) barcodes that use two-dimensional symbols and shapes to represent data. The most popular of which are QR (Quick Response) codes due to the widespread adoption of smartphones. Other 2D barcodes include Datamatrix, PDF 417 and Aztec.
It is very easy to determine if your stand-alone OEM barcode scanner can read 1D or 2D barcodes. When you activate the scanning mechanism on the reader, if you only see a red laser line, it can only read a 1D barcode. If you see a bright light or green array, it will read both a 1D and 2D barcode. Most rugged tablet pc barcode readers will have the ability to read both 1D and 2D barcodes.
Can I Use a Scanner with a Tablet?
A stand-alone OEM barcode reader will likely be able to connect to a device through USB or Bluetooth. If the device is being used in an industrial environment, you will want to make sure it is a rugged mobile barcode scanner. A separate device for scanning is susceptible to damage or loss than a waterproof industrial tablet with barcode scanner already integrated into the unit. In order to use the scanner, the tablet will need an application or software that interacts with the data that is being read.
Benefits
Save Time – Barcode scanning increases productivity by making certain tasks much more efficient. For example, a barcode scan can be used to do real-time inventory checks in warehouse applications. A barcode reader in a computer help minimize the time required for inventory management.
Minimize Labor Costs – Learning to use scanner on a handheld is straightforward and requires little time. Time saved on doing such tasks as inventory management will also help to further reduce costs.
Reduce Errors – Barcode readers input the data instead of it being hand entered, thus reducing the risk of human error.
Better Inventory Control – Scanning a barcode can support the supply chain with a centralized database for shipping and receiving.
Enhance Customer Service – Maintaining inventories so that customers aren't waiting extended periods for products will help customer relations. With real-time data, alerts can be triggered when stock gets low before it is gone.
Uses
The most practical application of barcode technologies is in inventory management. From scanning items at the checkouts of a retail store, to scanning stock in a warehouse with a tablet PC, an inventory database can be kept up to date in real-time to maximize supply chain management.
In addition to being a very effective inventory management tool, the healthcare industry uses a barcode on patients' wristbands to scan to access all their medical records with medical grade tablet PCs equipped with a barcode scanner. This can help eliminate potentially dangerous and costly medical care errors, such as administering the wrong treatment. This system also eliminates stacks of paper records that could be misplaced or damaged.
Barcode application is not just limited to logistics and healthcare. The fields of transportation, retails, food, anti-counterfeiting, military and so on are heavily dependent on this technology.
Handheld barcode readers for pc are being replaced with tablet PCs that have barcode reader modules in many different enterprise applications. These tablet PCs offer additional functionality that allows for increased productivity.
ODM Platforms with Integrated 2D Barcode Scanners
Estone Technology has Android and Windows Rugged Tablet PC platforms with integrated 2D barcode scanners available. Medical Tablet PCs and Rugged Tablet PCs can provide this feature as an option. For some ODM projects, this feature and be customized into your product. Contact Us to find out which products with integrated barcode scanners would best suit your needs or to create a custom design with a barcode scanner included.