What Is US Military Standard MIL-STD-810G Certified Drop Test?
MIL-STD-810 is the United States Department of Defense military standard for test specifications of environmental conditions for equipment. Its inception began in 1967 and has progressed with new revisions periodically. This military standard has been developed for use of DoD applications and adopted to commercial standards. Industrial and Military Grade Rugged Tablet manufacturers, like Estone Technology, use the standards as a benchmark to show the ruggedness of their products.
The most commonly referenced standard is MIL-STD-810G which was released in 2008. As of 2019, the latest standard is MIL-STD-810H. These revisions contain updates and additional criteria for test facilities and environmental tests.
There are 29 methods total, each describing an environmental element to be tested in a laboratory environment. This document also describes how the test should be conducted and the parameters of the test.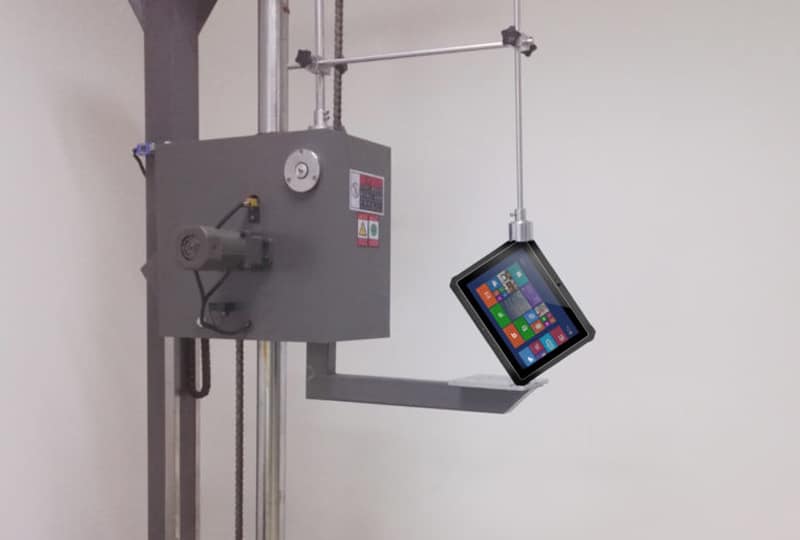 Military Grade Tablet PC Testing
The 29 test methods included in MIL-STD-810 are:
Method 500 – Low Pressure (Altitude)
Method 501 – High Temperature
Method 502 – Low Temperature
Method 503 – Temperature Shock
Method 504 – Contamination by Fluids
Method 505 – Solar Radiation (Sunshine)
Method 506 – Rain
Method 507 – Humidity
Method 508 – Fungus
Method 509 – Salt Fog
Method 510 – Sand and Dust
Method 511 – Explosive Atmosphere
Method 512 – Immersion
Method 513 – Acceleration
Method 514 – Vibration
Method 515 – Acoustic Noise
Method 516 – Shock
Method 517 – Pyroshock
Method 518 – Acidic Atmosphere
Method 519 – Gunfire Shock
Method 520 – Temperature, Humidity, Vibration, and Altitude
Method 521 – Icing/Freezing Rain
Method 522 – Ballistic Shock
Method 523 – Vibro-Acoustic/Temperature
Method 524 – Freeze / Thaw
Method 525 – Time Waveform Replication
Method 526 – Rail Impact
Method 527 – Multi-Exciter
Method 528 – Mechanical Vibrations of Shipboard Equipment (Type I – Environmental and Type II – Internally Excited)
What are Drop Test Standards?
The most commonly referenced method to test a rugged military grade tablet PC is the MIL-STD-810G specifications for shock and vibration or mil spec drop test. In the MIL-STD-810 standard pdf, this test is referred to as method 516.6 procedure IV in G and method 516.8 procedure IV in H. This is part of the shock test which has 7 different procedures:
Procedure I: Functional Shock
Procedure II: Transportation Shock
Procedure III: Fragility
Procedure IV: Transit Drop
Procedure V: Crash Hazard Shock Test
Procedure VI: Bench Handling
Procedure VII: Pendulum Impact
Procedure VIII: Catapult Launch/Arrested Landing
While the most commonly referenced test is the drop test, there may be some manufacturers that reference other tests, such as the MIL-Std-810G humidity test (Method 507) or Altitude test (Method 520) for various reasons. You will want to make sure you know which tests they are referencing when they refer to their testing certifications.
Comparing MIL-STD-810G and MIL-STD-810H Drop for Military Tablet PC Testing
From 2008-19, the test and evaluation standard for rugged military grade tablet PCs has been method 516.6 procedure IV. These specifications describe the test method for mobile computer equipment as a drop on to two-inch thick plywood with a concrete backing. This includes a total of 26 drops of each face, edge and corner from a high of 4 feet.
When MIL-STD-810H was released in 2019, the method for the shock test was updated to 516.8 while the drop test remained procedure IV. The standard for the test has been updated from a drop on plywood, to a drop onto concrete-backed steel. The height has also been increased from 4 feet to 5 feet.
Rugged Military Tablet PC Drop Test Certified Manufacturer
Estone technology has developed several high performance military grade tablet PC platforms. All of our rugged tablet PC platforms are 810G drop test certified.
Our design and test specifications are not limited to the drop test. Many of our platforms are tested beyond the widely accepted drop test, even if not indicated.
Rugged Tablet PC Platforms
The following is a list of Estone Technology rugged military grade tablet ODM platforms:
| | |
| --- | --- |
| Drop Rating | MIL-STD-810G, 4ft to Plywood |
| Shock Rating | MIL-STD-810G, Method 516.6 |
| Vibration Rating | MIL-STD-810G, Method 514.6 |
---
| | |
| --- | --- |
| Drop Rating | MIL-STD-810G, 4ft to Concrete |
| Shock Rating | MIL-STD-810G, Method 516.6, |
| Vibration Rating | MIL-STD-810G, Method 514.6 |