Medical Grade Tablet PC Design and Manufacturing
For Customized OEM and ODM Solutions
The use of rugged tablets in healthcare has been growing as more healthcare providers are adopting mobility solutions. Medical grade tablet PCs are becoming a primary device for healthcare professionals. We specialize in the design and manufacturing of medical tablet PCs in a wide range of use cases. The best medical tablet for healthcare can take many shapes and features but is dependent on the specific environment. The use of a rugged mobile device can extend beyond a physician's use to a portable medical cart or a medical kiosk. As a one-stop OEM, ODM, EMS manufacturing provider, Estone Technology works with you to create the best medical tablet PC for your specific use case.
Custom Medical Grade Tablet PC ODM
We have a variety of platforms to start your medical-grade tablet PC ODM project. Our medical tablet PC platforms can be customized with the specifications necessary to fit your need. Many of our Windows-based tablet PCs can be customized with a Linux OS for use in the healthcare field while other platforms are medical android tablets.
Allowing us to design your tablet based on specifications or modifying our existing platforms gives you the power to create the best tablet for healthcare within the mobile medical solution you provide.
Medical Tablet PC OEM
If you have your own specifications and designs for your preferred healthcare tablet PC, we can manufacture it. As an OEM for your tablet manufacturing, we will assist in understanding the supply chain for components, lifecycle, and manufacturing procedures necessary to accomplish your design.
We have many customers who wish to include proprietary technology in a tablet PC. As a one-stop manufacturing service provider, we can take your designs as far as they can go and help fill in the gap when it comes to software, device management, and mobile application integration.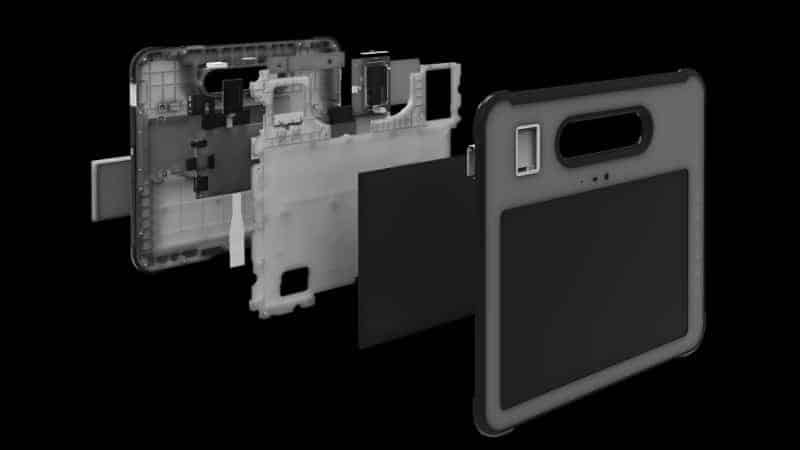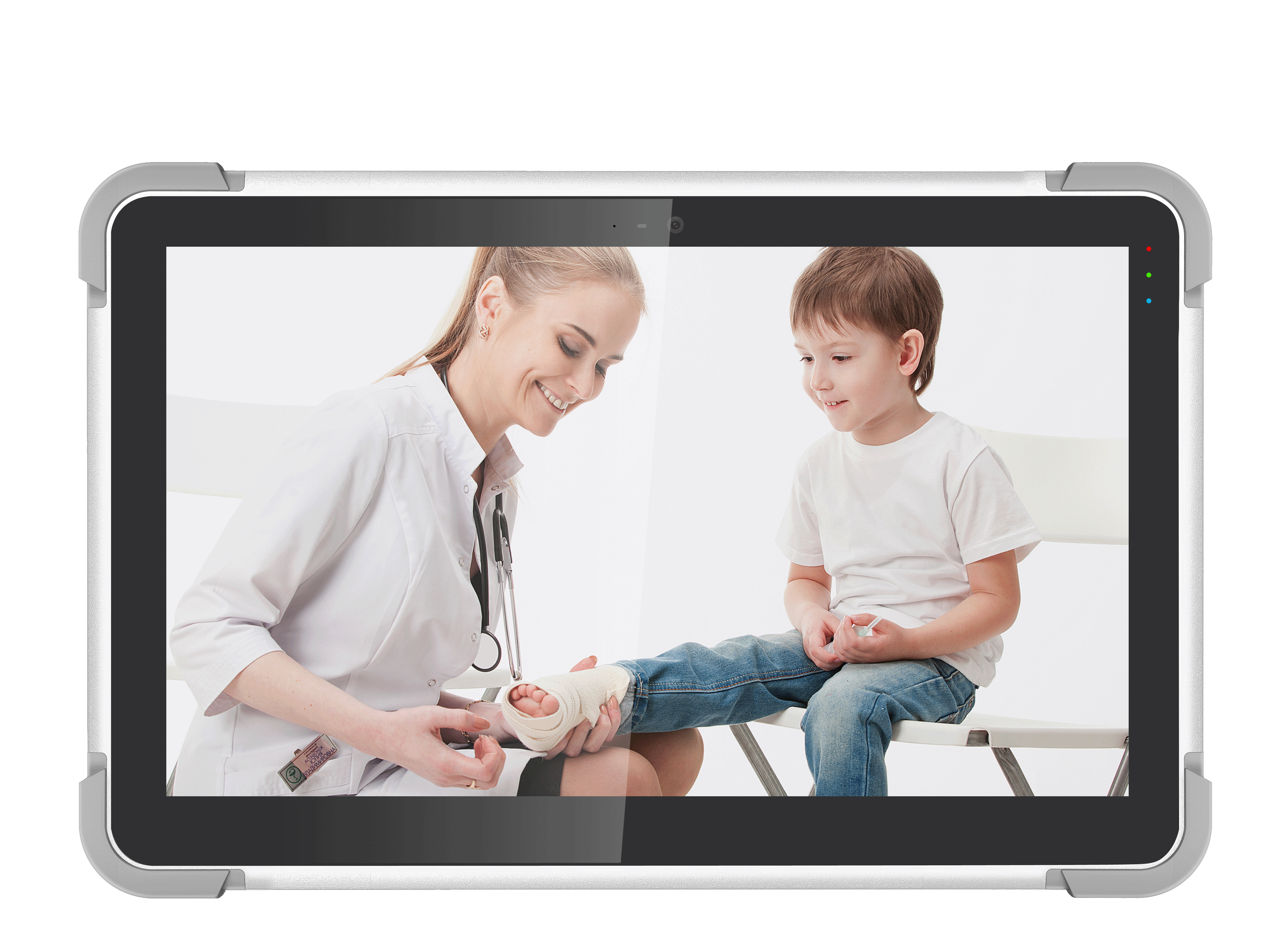 Healthcare Tablet PC Customization
There are plenty of options to customize your medical tablet solution. Some solutions require a mounting or carrying solution while others require a better higher contrast ratio for a medical touchscreen. Some technologies come standard in many newer devices such as a touchscreen configured for wet or gloved touches.
New and innovative customization ideas are encouraged to give your product a competitive advantage. Our engineers are ready to help design your innovative solution and provide proof of concept testing through our manufacturing processes.
Rugged Medical Grade Tablet Technology for Healthcare
Rugged tablets designed for the medical industry have a number of features available to specialize their use, including:
Anti-microbial chassis
Glove and wet touch configured touch screen
Waterproof at various IP-Ratings
Medically certified power adapter
IEC 60601 certification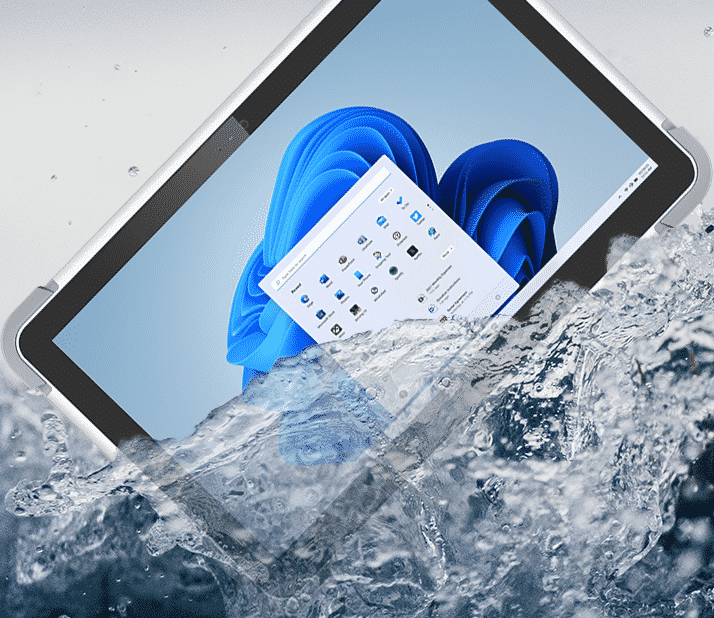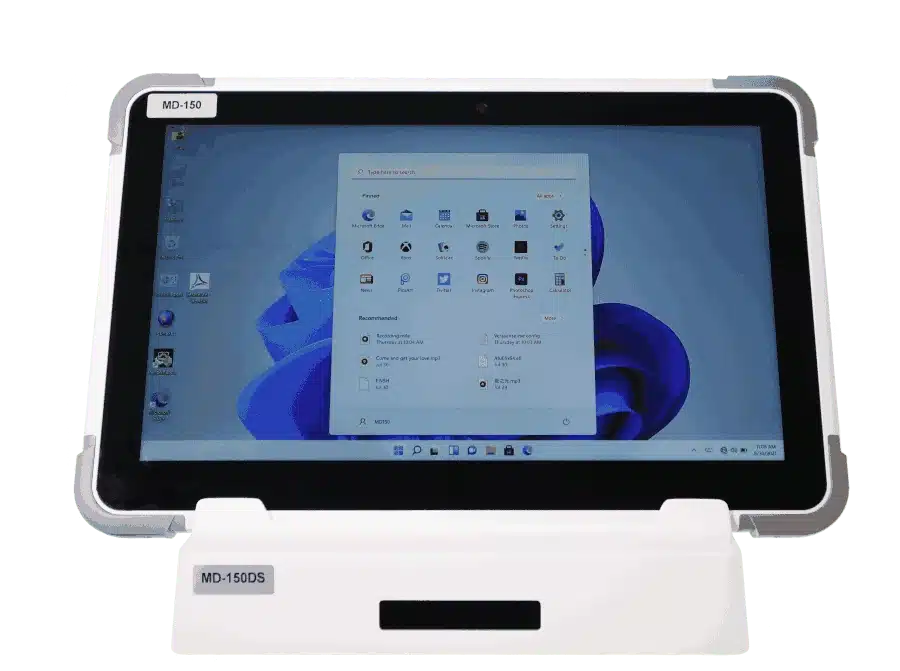 Mobility Solutions for the Medical Industry
As a medical tablet pc manufacturer, a solution includes more than just the device. A total solution may include a variety of docking stations, wall mounts, cart mounts, hand straps, shoulder straps, and more. Once your custom device is designed, we can continue the design phase to include any accessories you may need.
When designing the device it is important to forecast what accessories may be needed so the device can be designed with this in mind. The MD-150 has been built with pogo pins on the rear chassis to allow for custom mounts with connection capabilities that do not require the use of ports and plugs. With this design in the device, the mount can have the pogo pins placed at the correct location and have the necessary wiring run throughout the mount.
Start Designing Your Medical Tablet PC Today