What Are The Different Types of Manufacturers? (OEM, ODM, EMS)
What is an OEM, ODM and EMS?
Original Equipment Manufacturer (OEM)
The original equipment manufacturer may be the most ambiguous term in the manufacturing chain. Venture Outsource describes an OEM as the brand owner for the end product. In this description, the OEM has designed the product and can use other manufacturers to create the physical product that they sell.
Wikipedia, offering sources from HP and Business Week, positions a value-added reseller or assembler as an extension of some of the original uses of OEM which included the actual producer of the parts or equipment that is used in part or as a final product. If we examine a chain from a question asked on Quora about the relationship between Apple and Foxconn, we can see where confusion can set in.
Who then is the OEM? The answer is likely to involve where the intellectual property rights remain.
Original Design Manufacturer (ODM)
An original design manufacturer creates the design and manufactures the final product. Oftentimes, the ODM will retain the IP unless otherwise contracted. The final product is then sold by the branding company through a white label or private label deal. Azcentral describes white and private labels differences as:
What is a White Label Brand?
White label brands are products created by a manufacturer that are made available for a retailer to package and sell the product with their own brand on it. Many retailers can white label the same product at the same time.
What is a Private Label Brand?
Private label brands are products created by a manufacturer for the exclusive sale of a reseller. These deals allow the reseller to alter or enhance the product and keep competition for the same product low.
Electronics Manufacturing Service (EMS)
An electronics manufacturing services or Electronics Contract Manufacturing (ECM) describes companies that design, test, manufacture and repair or service final products or assemblies for products. Companies that provide EMS often work with an OEM to develop and produce their products. Frontend services that the EMS provides during the prototyping phase is testing of the developing product to include regulatory and environmental testing. The backend services of EMS happen after manufacturing, which includes support of the product for warranty and repair services.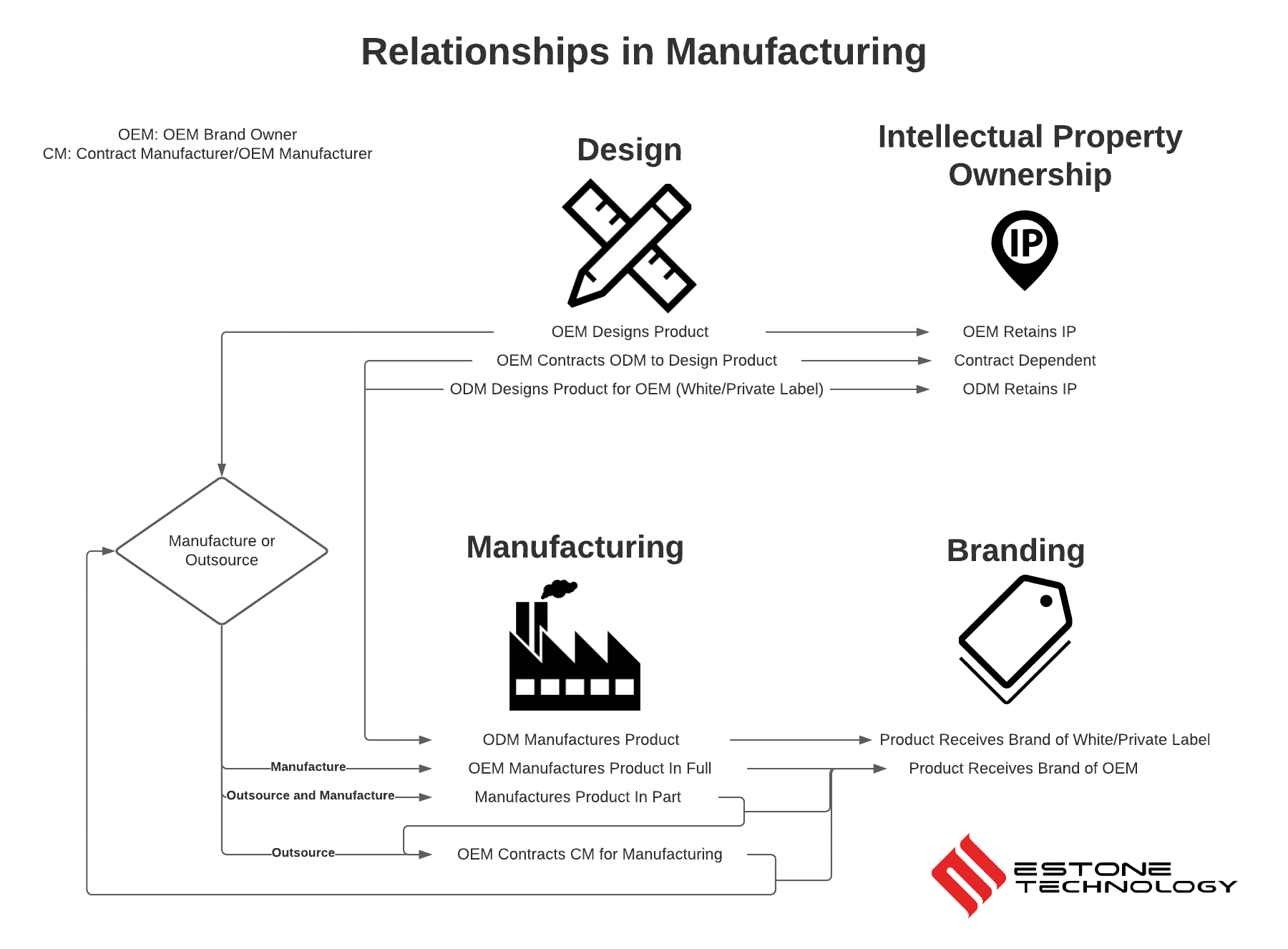 What are the Differences Among OEMs, ODMs, and EMSs?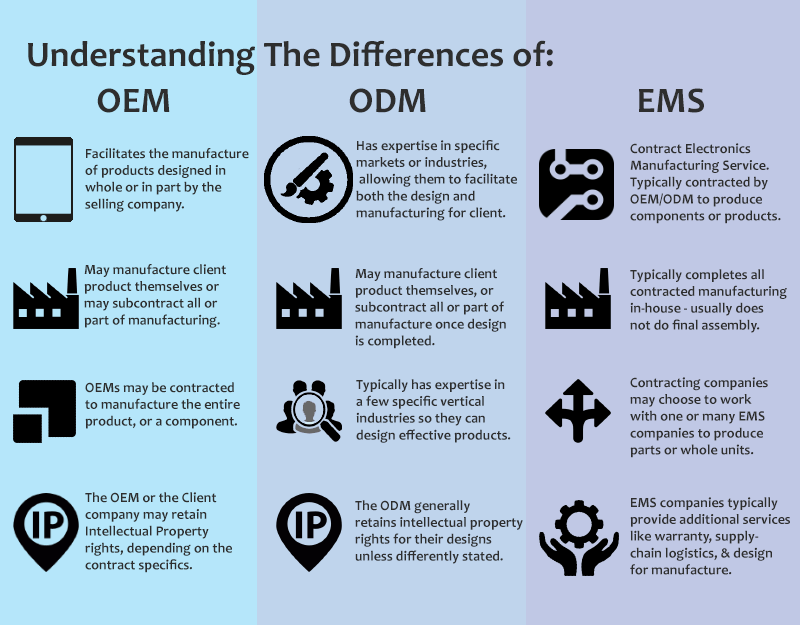 The differences between OEMs, ODMs, and EMSs are largely based on the relationship you will have with that entity and the services they provide when you are getting your product manufactured.
Design
An OEM or contract manufacturer will take your existing design and manufacture a component or a complete product. The intellectual property rights stay with the contracting company.
ODMs and EMSs will help you create your product design. In these instances, the IP rights are based on the contract.
Manufacturing
OEM and ODMs can be contracted to manufacture an entire product or component of a product. They may also subcontract out some of the manufacturing process as well based on their competencies.
An EMS is likely to manufacture the entire contracted product themselves.
Testing and Certification
Some ODMs and EMSs will test and certify the products they create. This can depend on their competencies and the contract of service.
Warranty and Service
An EMS is most likely to provide additional services beyond manufacturing. An extended relationship with these companies can provide warranty services and repair, supply chain logistics, product life cycle and design updates and revisions for future production.
Key Takeaways When Looking for a Manufacturer
When searching for a manufacturer to contract for the creation of a project, it is important to consider a number of factors to select the right partnership. To evaluate a manufacturer, it is important to understand the total scope of your project. This means there should be consideration given to the lifetime of your project, what kind of support you may need from your manufacturer and if there is potential for future revisions to keep current with technology.
Vertical Markets
Some manufacturers specialize in a specific type of product market. Whether your needs include design work or manufacturing only, your end product will be stronger as your manufacturing partner has experience in that specific field.
Quality
Not all manufactured products have the same quality. In electronics manufacturing, the quality of components and the manufacturing processes used are very important. Using cheaper components in your products to reduce manufacturing costs may become more costly as components fail and warranties need to be serviced.
Product testing and certifications can play an important role in determining if the quality of the product or manufacturer is satisfactory. In addition to testing the product for specifications, age and usage testing can show failures in the manufacturing process.
Terms
Manufacturers can be located all over the world. This can play a large part in the terms different companies are willing to accept in their contracts. This can include payment terms, design fees, IP ownership, warranty and repair responsibility, etc.
A long product delivery time with unfavorable payment terms could negatively impact accounting practices.
Support Services
After the product is manufactured, does your manufacturer offer any support for defective products or components? What about software, firmware, etc? It can be an expensive task to warranty your own products or offer software support and updates. Some manufacturers can offer this as a service since they already have familiarity with the product.
Extended warranties can be a hot topic as well. If customers demand a longer warranty period, finding and obtaining replacement parts for repairs can be costly or become impossible on a long enough timeline. Negotiating extended warranty terms with your manufacturer can pay for itself as they have the expertise to anticipate the lifecycle of components or stock repair parts.
Lifecycle Management
In addition to planning for warranties, lifecycle management is an important part of a product's longevity. If you plan on offering your product to customers for a long period of time, you will need to periodically update the software, firmware or develop new hardware revisions in order to keep up with technological demands. A strong EMS can work with you to develop a plan for futurecasting your needs and manage the supply chain.