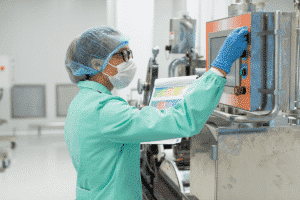 With the evolution of touch screen technology, touch interface has been gradually taking its place in life as one of the most effective user interfaces. We have become accustomed to using electronic products like our own smartphones, tablets and kiosks, ATMs, vending machines, electronic information systems in public places with touch screens. The healthcare industry is another area with rapid adoption of medical tablets, touch panel PCs, medical devices with touch panels and other touch related medical computers.
As any user accessible areas can be subjected to Electrostatic Discharge (ESD) strikes, all products with touch panels require some sort of ESD protection. Their electrostatic discharge problems need to be addressed to meet international standards. Electrostatic discharge can be very harmful to computer systems. Even a small amount of voltage can damage components and cause system failure.
Product reliability is an important factor for hardware and software on the design of industrial panel PC and medical tablet computers with touch panels built-in. This article will provide information on touch panel ESD protection, Electromagnetic Compatibility (EMC) standard ESD tests and requirements for medical devices and industrial computers.
Touch panel ESD protection
A typical projective capacitive touch panel consists of three major components, a glass protective cover, a capacitive touch sensor layer and a touch controller circuit. The touch controller circuit traditionally exists on a separate FPC. On one side of the FPC, the touch controller IC is responsible for monitoring the electric field around the panel with a series of electrodes in the touch sensor. If an object is placed in close proximity, it detects the change and records the location information.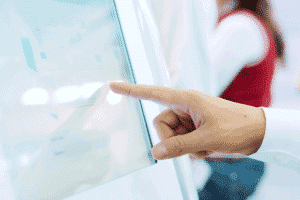 The touch controller is designed to sense electrical variation on the surface of the panel. The environment or human with large electrostatic charge to touch the panel will let the controller sensed a huge noise. The touch sensor pins of the touch controller IC will inevitably contain ESD protection circuits. The huge trigger signal will send through the ESD protection circuit and flow into the power or ground lines of the controller.
On the other hand, the FPC connection to the main board can also expose the touch controller to ESD pulses introduced at the system level. Examples of these ESD channels include USB, Ethernet or other exposed interfaces of the system. When the power increases to more than the touch controller IC's ESD protection limit, it will damage the IC, or cause internal circuit malfunction.
To solve the problem of electrostatic discharge with touch panels, many techniques can be applied, including mechanical design, production control, system circuit or component characteristic design. The basic principle is to protect the key components like the touch controller IC. Most EMC hardware design measures can be applied to ESD immunity improvement for touch panels, including power supply design, layout considerations, I2C pull up considerations, metal part grounding, adding external ESD protection, etc.
In addition to hardware measures, software measures can also be implemented to deal with some other touch panel related ESD problems. For example, in our touch panel PCs PPC-4310, touch controller ESD watchdog feature of the firmware is enabled. It allows the reset of the touch controller and recovery of the touch function from non-destructive ESD events.
Tablet computer and panel PC ESD tests
Electrostatic discharge (ESD) tests for tablet computers and industrial panel PCs for measuring ESD are based on IEC 61000-4-2. It defines the range of test levels in relation to different environmental and installation conditions and establishes the appropriate test procedures. The objective of the standard is to establish a common reproducible basis for evaluating the performance of equipment subjected to ESD protections.
There are two types of tests based on the international standard, contact discharge and air discharge. The following is an IEC 61000-4-2 specifying compliance levels of ESD tests. A common test level for industrial panel PCs is 6kV contact, 8kV air, but these values could be higher or lower depending on the product standard requirements.
IEC 61000-4-2 ESD test classification:

Where "x" can be any level in between the other levels.
Medical tablet and panel PC ESD test requirements
The new EMC standard for medical devices, such as medical tablets and panel PCs is IEC 60601-1-2 standard. It includes increased testing limits for electrostatic discharge (ESD), radiated radio-frequency (RF) immunity, surge immunity, and electrical fast transients (EFTs). The standard outlined in IEC 60601-1-2 for measuring ESD is following IEC 61000-4-2 mentioned above.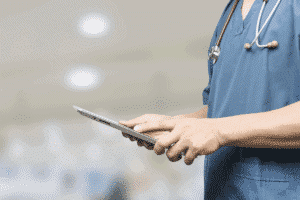 One of the significant revisions to the immunity standard IEC 60601-1-2 is the increased ESD level. The contact discharge level is increased from 6kV to 8kV, while air discharge level is increased from 8kV to 15kV. This is the same as the Class 4 of the IEC 61000-4-2 standard.
Estone's medical grade tablet computers and industrial panel PCs go through a series of rigorous product development processes. They are designed to meet IEC 61000-4-2 or IEC 60601-1-2 ESD test standards for product quality and reliability to use in the medical field.
To know more about our products in these categories, see medical tablets and panel PCs on our website or contact us for details of your project.