Toledo, OH – Estone Technology is pleased to announce our new fully rugged android Tablet MDA-100 . The MDA-100 represents a combination of the latest Android 8 operating system with our most popular rugged features and modules in a compact, 10" screen platform. The device is offered ODM, with a wide variety of available modules and custom branding options based on specific needs. Units are offered with varying combinations different features.
MDA-100 Rugged Tablet PC main Features:
ARM Cortex-A 72 fast processor
MDA-100 Tablet with Dual-Core Cortex-A 72 processer, pairing with Quad-Core Cortex-A53 has high compute density and infrastructure compatibility, the fast processing of Cortex-A72 is particularly suited to mobile applications.
Hot-Swappable Battery for Uninterrupted Battery Life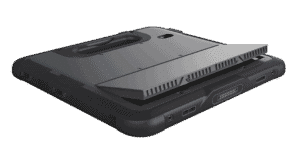 With Hot-Swappable Battery, MDA-100 can be running without interruption rather than having to stop for a battery recharge, it can be used if needed
Full IP65 and 4ft Drop/Shock Protection (MIL- STD-810G)
MDA-100 is IP-65 waterproof rated, it is fully MIL-STD-810G Standard compliant, the product withstands harshest environment with drops, dust, water, falls, and vibration.

Wi-Fi, 4G LTE, Bluetooth, and GPS Wireless Connectivity
With complete wireless connectivity, including WiFi, Bluetooth, GPS, and blazing-fast 4G LTE Connectivity, the field workers can access or exchange data in real-time, ensures safety, efficiency, and reliability.
Optional Barcode Reader, Fingerprint, CAC Card Reader& RFID Reader
MDA-100 features optional Barcode Reader, Fingerprint, CAC Card Reader & RFID Reader, allowing the function of inventory management, asset tracking, security card checking, ID identification and so on.
Optional docking station, wall dock and Keyboard
MDA-100 has rich accessories, it can be easily carried, used in the docking station as a base PC, or mounted via VESA mounting holes wall dock and used as a panel PC, it also comes with keyboard to make writing easily.
Optional Outdoor LCD Display (800 NIT), sunlight Readable
MDA-100 offers an optional sunlight readable LCD (800NIT) for outdoor/full sunlight usage.
Please download the datasheet for more information on MDA-100 technology and options.
The MDA-100 is a purpose-built, application-specific rugged device, intended for use in all types of mobile device settings, including oil and gas, logistics, hospitals, and so on.
Estone Technology is a technology company providing Tablet PCs, Panel PCs, Embedded Boards and other technology solutions, as well as OEM/ODM electronics design and manufacturing solutions. We support rugged industrial, medical IT, and other demanding vertical industries.
For more information, please visit: Our Homepage