With the rapid adoption of medical tablets, touch panel PCs, touch screen medical devices and medical computers, the healthcare industry leverages the innovative technologies and features immanent in these types of devices. Medical computers used for telemedicine are some of the examples of those we see in recent headlines, which provide patients and providers solutions for virtual care without face to face visits.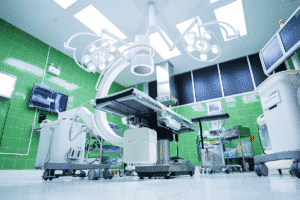 However, preventing the growth of microbes, bacteria transferring through touch screens or the surface of medical computers has become more and more challenging when many of these computers, such as medical tablets and medical panel PCs, are widely used in hospitals, outpatient clinics, nursing homes and other healthcare settings.
On the other hand, even in medical treatment settings, according to CDC's estimates, one in 31 hospitals patients has at least one healthcare-associated infection (HAI) on any given day. This became even more relevant recently as we are experiencing the COVID-19 pandemic. A HAI contracted during care is the last thing any health facilities visitor or hospital patient expects or needs.
Antimicrobial coating
Antimicrobial coating on medical computers is used to inhibit the growth of bacteria, mold and mildew, prevent the surface transferring of bacteria and reduce the spread of infectious diseases. Unlike cleaning agents and disinfectants often used in health care facilities, active ingredients added to the antimicrobial coating on medical tablets and touch panel PCs provide protection against microbes around the clock, which in turn prevent them from spreading. The antimicrobial substance integrated to the antimicrobial coating typically contains silver ion antimicrobials, zinc antimicrobials and copper antimicrobials.
Silver ions, for example, is suitable for a wide range of materials and applications, including medical coatings, antibacterial films, plastics and powder coating products. For medical devices with touch panel PC, medical tablets and medical computers, if the surfaces are protected with silver ions antimicrobial additives, the amount of bacteria on some of those surfaces can be reduced by 99.9%. The antibacterial coating also prevents the spread of fungi.
Antimicrobial touch screens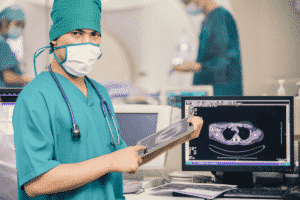 Displays with touch panels are becoming more and more popular in medical devices. Medical tablets and panel PCs are often used in surgical displays, patient monitoring units and hand-held devices to improve patient care and productivity. Each time people use these touch screen devices, there is a risk that each of them leaves their mark in the form of more or less dangerous bacteria. Antimicrobial coating on touch screen glass will provide continuing protection in this situation.
The following is an example of the test results of one of the touch screen cover glasses used in one of our ODM products. The test is based on JIS Z 2801:2010 standard for antibacterial products. The test result shows antibacterial activity and efficacy.

Antimicrobial enclosures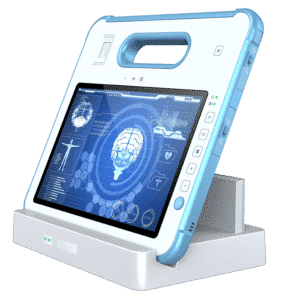 Besides the touch screen, the enclosure surfaces of medical tablets and panel PCs also need to be protected to reduce the growth and spread of microorganisms. To add antimicrobial protection for plastic enclosures, antimicrobial additives based on a natural active substance in the form of silver can be added to the polymer for injection molding. In the case of metal enclosures, antibacterial powder coating options are available based on specially formulated silver ionic technology. Without antimicrobial coating, the enclosure surfaces will require cleaning often and may degrade with the heavy use of disinfectants or strong chemicals.
The following is the test result of an antibacterial plastic enclosure material used in one of our medical grade tablets. The test is with reference to ISO 22196:2011 standard for measurement of antibacterial activity on plastics and other non-porous surfaces.

Healthcare-associated infection and other risks of infection cause enormous costs throughout the world, especially for healthcare facilities, hospitals, nursing care facilities, home healthcare services and clinics. It is important to utilize antimicrobial technology to protect the surfaces of medical computers that are in high risk of contamination with germs and require ongoing protection even between cleaning cycles.
To know more about our product with antimicrobial coatings, see medical tablets and panel PCs on our website or contact us for details of your project.