Custom Linux Distros through Yocto Project Gaining Traction for Tablets/Panel PCs
For some Tablet and Panel PC applications, a familiar, user friendly operating system is necessary. Certain users will require the flexibility of Windows or Android operating systems to download key software or work with specific cloud-based programs. However, for many devices with specific purposes, full fledged consumer or commercial grade operating systems are a needless expense, and open the device up to misuse and security concerns. For applications like vending, kiosks, industrial control, and data collection, a customized Linux distribution may be a better choice; it's cheaper per unit, it's more secure, it's less demanding on equipment, and it's easier to limit the device to only the functions it was intended for.
Estone Technology has developed a wide range of rugged and medical tablet PCs and panel PCs that can be easily set up with a Linux distribution. Better yet, we employ a number of software engineer specialists, to create or optimize a distribution suited to specific needs. While Linux is an excellent operating system and a solution to many problems inherent to using consumer operating systems on specialized tablets and panel PCs, customizing Linux to offer the specific functions and suit the specific hardware you need can be challenging. Our engineers are experienced in the Yocto Project for Linux, an ongoing project helping developers create custom distributions specific to their environment.
By combining OpenEmedded technologies and methods, Yocto Linux makes developing for IoT and Industrial applications much more simple, efficient, and much quicker. Simple environments for sensors, tools, and input apparatuses to communicate can be created quickly, and custom user interfaces are possible for most any task, where needed. By combining Yocto project development with a panel or tablet PC, a custom user interface can be developed in very little time, for controlling anything, or gathering information from anywhere.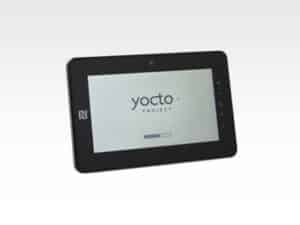 Most of our tablets and panel PCs can be set up with Linux, including the new MD-100 series Rugged and Medical tablets – with powerful Intel Kaby Lake processors and features to support almost any purpose, down to our small and efficient 7" PPC-4207 panel PC, waterproof and perfect for industrial controls, vending, and unique uses in the home and elsewhere.
Contact Estone Technology today to find out how our robust tablet and panel PC designs combined with Yocto Linux can solve the problems you face every day.