It's a fact – no matter what industry you're a part of, or what industries you serve, automation is a growing part of everything with in it. Human-Machine Interaction, whether it's controlling industrial equipment or accepting retail payments, is now a part of nearly every aspect of our days. For years, Human Machine Interactions (HMIs) have been the domain of buttons, switches, dials, and keypads, but over the past decade, touchscreens have become ubiquitous, offering a level of flexibility and control precision not seen in more analog control models. Now, as touchscreen HMIs continue to expand, it's becoming more and more important to have controls that can both stand up to any environment, and offer the processing power to function as a complete HMI solution, no need for additional logic controllers or additional processing units. Consumer tablets often being shoehorned into these uses often don't offer the flexibility and durability necessary for a long service life and easy implementation.
In steps Estone Technology's extremely rugged All-in-One Panel PC solutions – the 7" PPC-4207 and the 10" PPC-4210. These ARM based Panel PCs are equipped for virtually any type of use, with waterproof front panels for outdoor and industrial use, bright screens that are easily visible in direct sun, flexible Android or Linux operating systems, and plenty of connectivity options for virtually any use case. And because they're based around some of our most popular embedded boards, they're easy to expand with special option adapters.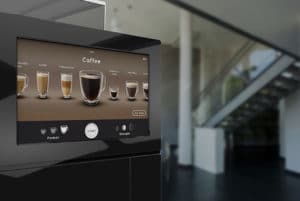 Both the 7" and 10" models are built with the same ruggedness you've known from Estone Technology's fanless PCs for years. Metal and plastic enclosures with IP65 waterproof compliant front panels provide protection from impacts and other environmental hazards found both indoors and outdoors, and the Panel PCs are rated to survive temperatures from 0° to 60°C. An optional VESA mount means that the Panel PCs can easily be used embedded into a cabinet or case, or hung on a wall or armature if needed. There's even an option for included internal stereo speakers, especially useful for retail, consumer, and infotainment uses.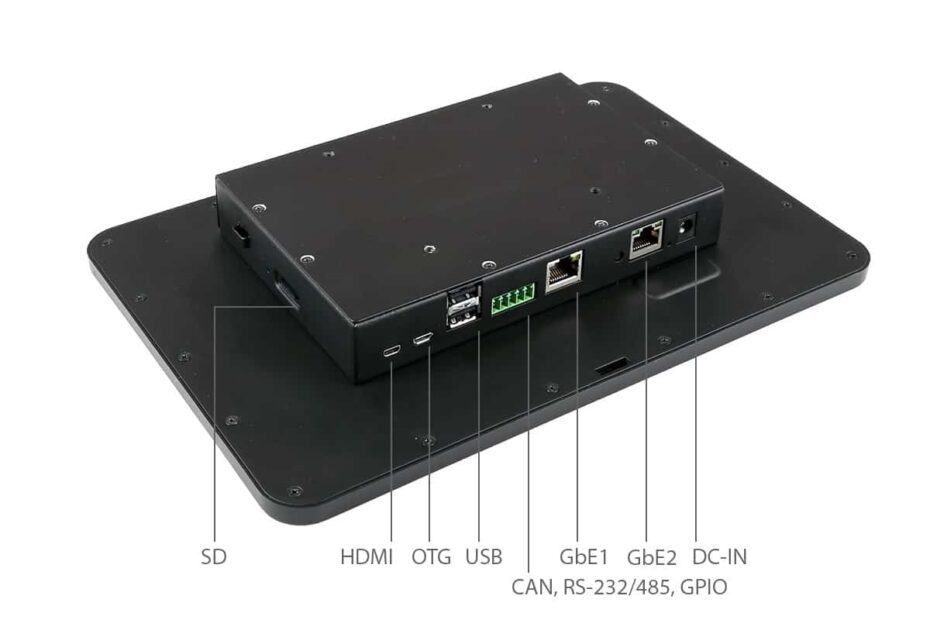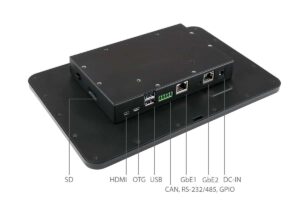 Because so many use-cases exist, it's very difficult to predict what kind of equipment could be connected to operate in concert with the Panel PC, or what tasks it could be called upon to perform. That's why It's important to select a solution that offers a wide variety of different input options. Bot h the 7" and 10" model include an RJ45 GbE port with an option for a second, multiple USB ports, an HDMI port, and more, plus a GPIO terminal block that provides CAN Bus and RS-232/485 connectivity. Panel PCs equipped with terminal blocks can interface easily with most vehicles and PLCs, or directly with industrial equipment, making them a great choice for vehicle or industrial automation, while the other connections work simply with most retail and consumer equipment. These Panel PCs also offer Power Over Ethernet functionality, reducing the need for power supply wiring in inconvenient locations.
And of course, when planning to automate any sort of task, it's essential to consider not just how your HMI center will integrate with your existing equipment, but also with the people who will use it. Can it support the necessary software? Does it have necessary inputs? Sometimes it may be helpful to have a few permanent function buttons independent of the touchscreen for common tasks. For commercial or infotainment functions, a camera and microphone may be helpful. In secure settings, an NFC/RFID reader that will only provide keycard access might prove essential. Both the PPC-4207 and the PPC-4210 can support a variety of Android and Linux installations, providing wide software support and ease of use, and the user interaction and I/O options are unsurpassed.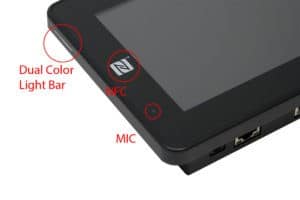 To learn more about Panel PC HMI options, give us a shout via email at info@estonetech.com, or via our website at Estone Technology.