The superior amount of data available from today's manufacturing equipment is surprising. PLCs and PACs are capable of sending swaths of data about performance. Even certain pieces of manufacturing equipment themselves are able to send data on performance and necessary maintenance, a change in paradigm called "Industry 4.0". Production recipies and processes can be changed on the fly, and multiple pieces of equipment can be monitored and adjusted from a single station.
In the past, this level of adaptability was impossible, because equipment was controlled primarily through switches and buttons, or a workstation comptuer removed from the actual production environment. Today, embedded touchscreen Human-Machine Interfaces, or HMIs, are durable and advanced enough to control virtually any equipment, in any environment.
Industry 4.0 Demands Interactivity in a Digital HMI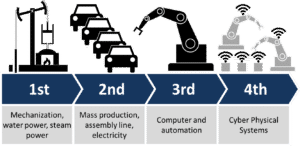 Classically, HMIs as equipment controls featured a few switches and buttons, a way of activating certain equipment features – whether industrial manufacturing equipment or home appliances. Over time, that slowly graduated towards remote computers and simplified computerized systems. Individuals in a centralized control room were able to monitor and control much of the system, while individuals located at the equipment had simple touchscreen and button assemblies for the actual moment-to-moment action.
Today, an incredible level of equipment control and information affords nearly 100% equipment uptime, higher levels of efficiency than ever before, and flexibility in manufacturing systems demands a greater level of interactivity and control than either of the past systems can provide. Modern digital HMIs to the rescue!
With a modern touchpanel PC or rugged tablet, and some affordable, adaptable embedded boards, any equipment, from robotic welders to home HVAC systems, becomes a smart, Industry 4.0 ready device. Get information on throughput, adjust settings, change operation modes, read critical information, and even schedule mainteance, all from a single panel, across all of your equipment.
How Touchpanel PCs and Rugged Tablets as HMIs Work
Most modern equipment comes with sensors and triggers for control and system analysis, or it can be easily upgraded with embedded boards and sensor modules to control and record every aspect of system operation. By combining the integrated smart components of your equipment with appropriate software, it's possible to take your equipment beyond simple operation. Robotic arms can switch quickly from manufacturing to measurement and telomatics. Custom manufacturing designs can be programmed to run in sequence without delay. Equipment can even signal for additional manufacturing components, spare parts, or additional crew all on its own.
By adding a touchpanel PC or rugged tablet, it's possible to advance to the next level. Control an entire factory's worth of advanced equipment from one screen. Quickly switch from control operations to manufacturing analytics and make processing changes. With a tablet, you can even take your HMI controls with you and follow the manufacturing process through a factory – or simply control features of your home as you move through it.
Essential Features of a Touchpanel HMI
To make a touchpanel HMI work, it needs a few common components. A rugged, durable screen is an absolute must, as these devices typically must endure tougher conditions than your average smartphone. Estone Technology Panel PCs and Tablet PCs have some of the most durable touchscreens available, and we even offer a special ultra-durable bonding for some screens, able to withstand not just scratches and drops, but impacts.
The device must feature enough computing processor power and graphics power to operate the software for your equipment – some pieces of equipment, such as medical devices, have significant processor and GPU demands. Estone Technology offers Tablet PCs and Panel PCs in a variety of processor options from a variety of makers, like Rockchip or Intel Atom processors for power and space efficiency, or Intel Kaby Lake Core i7 processors for extremely demanding tasks.
And of course, the tablet or panel PC needs the I/O options to connect with your equipment. This may be as simple as a GbE eithernet port, or even a USB port, but to interact with a lot of devices, you'll likely need a lot of connectivity. Some Estone Technology panel PCs even come equipped with or offer a CANbus terminal block, perfect for connecting virtually any type of equipment.
Interested in a touchpanel PC or tablet PC solution for your HMI needs? Contact Estone Technology today to learn more about what we can offer.