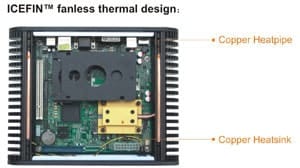 Fanless Systems
As many of us know, a conventional computer system can develop problems when subject to extreme conditions such as high temperatures, dusty areas, restricted airflow and more. However, here at Habey USA we provide you with many Fanless Systems and Fanless Chassis for any application or solution.
With our highly efficient ICEFIN™ proprietary thermal design, HABEY's fanless media players are capable of utilizing a wide range of processors, from the Intel Atom, to high speed Core 2 Duo and even the latest Core™ processors. Ninety percent of our products utilize our fanless designs. Here our our Top 5 list of Fanless System Advantages.
Efficiency
Today, with power constraints, your company or household must look for ways to become more efficient to reduce your carbon footprint. Fanless Systems help keep power usage low and computing temperatures cool. With no fans to power, fanless systems typically use less power and are more cost efficient.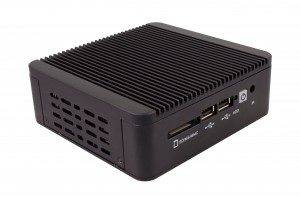 Solid State System
Before, conventional computers need fans to keep them cool. With some industrial systems running 24/7, there is a greater chance for failures when there are moving parts involved. A fan can have a mechanical failure, get seized up from dust accumulation, or become damaged from sudden movements and vibrations. This increases maintenance costs and in some instances production costs when a system is not working. When running fanless systems, there is no need to worry about moving part failures. The system passively dissipates heat from processors and other vital computer components.
Dust Free Design
In some industrial applications, computers are needed outside in the elements or in an area prone to dust or particle accumulation (e.g. production factory, outdoor surveillance systems). If using fanned systems, dust can get sucked up through holes and seize up fans, cover up processors, and can sometimes catch fire when there is a dust build-up. Fanless systems can be fully enclosed, keeping dust and debris out of the system. With an enclosed system, there is no need to worry about fan seizures, overheating, or any malfunctions that may happen with a fanned system.
Silent System
With no moving parts, a fanless computer is extremely quiet. This is ideal for situations such as a home theater pc system (HTPC), where you would not want to hear a fan while watching a film or tv show. HTPCs are ideal when you want one system control a complete theater system.
Rugged Compact Designs
Finally, with a fanless PC, there is no need for much dead space in the system, meaning the system can be as compact as needed. It is no longer required to keep airflow through the system so the system components can fit tightly and neatly into a fanless, fully enclosed, small form factor chassis. This small form factor ability saves space, and can be mounted directly onto a monitor.
For more information about our fanless system advantages or fanless chassis advantages, please contact us here. Our friendly sales team can help you find the perfect system for your specific application or to learn more about our products.
REFERENCES (3)