At their root, rugged, semi-rugged, and ultra-rugged tablets represent the same basic technology – All-In-One Touchscreen Computers with their own power source that have been designed to withstand stresses beyond ordinary home-and-office use. In practice, the differences between these technologies extend much further.
A Ruggedized Tablet is a tablet that has been designed with components and features to withstand some sort of severe duty. Depending on the nature of the duty the tablet will be used for, different levels of ruggedization are needed. For instance, a tablet that will be used as a Point-Of-Sale system in a restaurant needs to be a bit more rugged than one for your home, but a bulky and weighty tablet designed for the mining industry would be cumbersome for such duty. That's why there are multiple grades of ruggedization available – too much may be as detrimental as too little.
Fully Rugged Tablets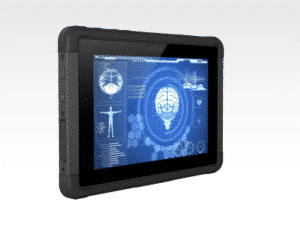 The most common are Fully-Rugged Tablets. These are tablets that have been designed for all weather and moderate to-severe use. Fully-Rugged Tablets usually feature IP65 Waterproof Ratings, making them impervious to heavy rain and precipitation, extra-bright screens for use in full sunlight, and MIL-STD-810G ratings for drop and shock protection, ensuring that they'll survive life in tough situations. Fully-Rugged Tablets may also offer special features, like chemical resistance so that they're easy to disinfect.
Fully Rugged Tablets are also built tough – specially designed to maximize cooling for use in hot weather, and to reduce shocks for use on unstable ground. Drop one in the mud or use in the baking sun, and you'll find it as effective as in any other environment. A commercial tablet is likely to seize up or outright fail if used under the same circumstances.
Semi-Rugged Tablets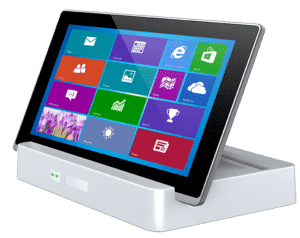 A Semi-Rugged Tablet features some of the same design considerations as a Fully-Rugged Tablet, but not all. For instance, only the touchscreen may be waterproof, and with a lower IP rating, so that the tablet can be easily cleaned, but it will never be expected to function in heavy rain outdoors. The tablet may be designed with a scratch resistant screen for use by a wide variety o people, but it isn't intended to be carried around and repeatedly dropped or abused. Situations that require certain rugged features, but not others, usually make the best opportunities for the use of Semi-Rugged Tablets.
The benefits of using a semi-rugged tablet are cost and form factor. More rugged tablets usually have higher associated costs, weigh more, and are more bulky. Eliminating unnecessary rugged features can save on all of these – perfect for tablets that have specific uses that can be planned for.
Ultra-Rugged Tablets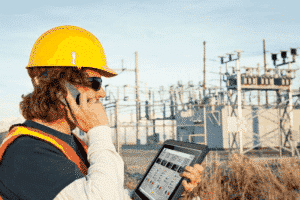 Ultra-Rugged Tablets are in another class again. These are similar to Fully-Rugged Tablets, in that they're designed to go anywhere and fulfill any duty in any condition, but Ultra-Rugged Tablets go beyond. Just as Semi-Rugged Tablets eliminate some unneeded rugged features, Ultra-Rugged Tablets amp up the most needed rugged features another level. Cases may be made from hardened steel. Components may be shock mounted to an even greater extent. Components may be designed to operate in even greater temperatures.
Ultra-Rugged Tablets often find use in industries where demands are excessive, but can be predicted and planned for. Industries at sea may want to consider an Ultra-Rugged Tablet with a greater IP waterproof rating, and salt corrosion resistance. Desert industries may want to consider an Ultra-Rugged Tablet with an extra-bright screen and an extremely high temperature support.