Today's consumer-grade tablets are impressive, but also often unequipped to meet the challenging demands of industrial applications. This leads to an increased need for rugged, utilitarian tablets. Industrial tablets are purpose-built and purpose-driven tools. Sectors where time and safety are essential benefit from these powerful and targeted pieces of equipment.
Once an organization decides to integrate industrial tablets into their workflow, it's important to do your research and make an informed choice. If you think an industrial tablet may suit your brand's individualized needs, you'll need to find a model that aligns with your requirements.
Rugged Tablet Features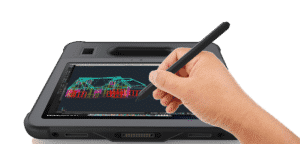 Ruggedized tablets are built with durability in mind. They're also portable, allowing for quick and easy use anywhere necessary. The natural drops and shocks that come along with a demanding environment don't pose the same risk to a rugged tablet as they would a consumer tablet.
Other notable features of tablets for industrial use include:
MIL-STD-810G standards
Customizable functions, such as adding different modules, RFID, CAC, and Fingerprint
Waterproof up to IP67
Optional accessories for specialized tasks
Remote monitoring and controls
Hot-Swappable Battery for Uninterrupted Battery Life
Sunlight Readable
Waterproof Options
Some applications benefit notably from the use of waterproof tablets. For example, industries like the food and beverage manufacturing sector require frequent hot water washdowns. This creates considerable amounts of steam that could severely damage the average consumer tablet (at the moment or over time).
A tablet's waterproofness is measured using the International Protection (or IP) code and denoted using IP markings. This system is officially referred to as the IPXX system, with waterproofness indicated by the two variables at the end. These variables become numbers that demonstrate an item's ability to withstand:
X – no data
0 – water ingress
1 – vertically dripping water (if exposure is ten minutes or less)
2 – tilted dripping water
3 – water sprayed against the item
4 – water splashing against the item from any angle
5 – water jets of 12.5 LPM at 30kPa and 3M distance
6 – water jets of 100 LPM at 100kPa and 3M distance
7 – immersion up to 1m in depth
8 – continuous submerged operation as deep as 3m
9 – water jets of 100 LPM at 100kPa and 3M distance at 80 degrees C
In some cases, an IPXX rating is followed by a letter, which notes additional information such as:
F – oil-resistance
H – high voltage
M – device in motion during testing
W – rated for special weather conditions
K – extra high pressure at close range (8-10 MPa)
Touchscreen Advantages
The touchscreens built into industrial tablets are far superior to those found in consumer-grade products. The average consumer tablet touchscreen cannot be utilized whilst wearing gloves or other protective gear; and, in some cases, water and electrical currents may interfere with the touchscreen and mitigate usability.
Ruggedized tablets rely on resistive touchscreens and offer exceptional sunlight readability for outdoor applications. Their capacitive touch screens allow users to leverage fingers, styli, and other tools to utilize these tablets in a range of conditions. Some common added features of these tablets include AF/AG/AF/POLARIZATION, ultra-LCD Protection, digitizer with high accuracy, and the ability to work with gloves or in wet conditions.
Wi-Fi, 4G LTE, Bluetooth, and GPS Wireless Connectivity
With complete wireless connectivity, including WiFi, Bluetooth, GPS, and blazing-fast 4G LTE Connectivity, the field workers can access or exchange data in real-time, ensures safety, efficiency, and reliability.
Multiple Operating Systems
Industrial tablets are designed to run on a range of operating systems, such as Android, Linux, and Windows. The ideal operating system is dependent on a number of factors. Rugged Android tablets offer a great deal of flexibility and prove an excellent solution in vertical industries. While rugged Windows tablets don't offer the same OS customizability as an Android based tablet, they still offer strong performance in logistics, fieldwork and maintenance, industrial, oil and gas, mining, and commercial applications.
Estone's Customized Ruggedized and Industrial Tablets
Estone Technology offers OEM and ODM custom tablet services to experts from a wide array of industries. Our team works diligently to create the ideal product for each application utilizing industrial design, product engineering and management,and scalable manufacturing. Our technicians perform a host of rigorous tests to ensure each of our industrial tablets meets client needs. Clients can select one that best fulfills their application without sacrificing project budgets or timelines.

If you believe that you may benefit from the use of an industrial tablet, contact us today or fill out our sales inquiry form to learn more about our services.