As time marches on, builder and developer boards must adopt new technology and improve to provide builders a capable platform. The latest model in the popular "Raspberry Pi" line, the Raspberry Pi 3 B+, for example, features a 64-Bit Cortex A-53 Processing unit that supports a wide array of in-demand developer functions. Longtime followers of Estone Technology know that we manufacture boards for industrial operations and commercial designs – the same ease of use and adaptability with a more robust construction and parts designed for extreme duty, focused around practical commercial applications. The newest Raspberry Pi offers a variety of excellent features supported by its new processor, but Estone Technology's newest boards operating on the Rockchip RK3328 processor offer another level up for product designers.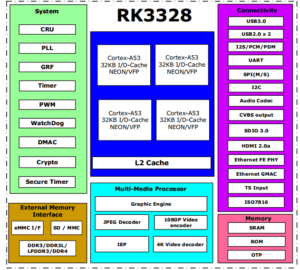 Like the Broadcom processor in the Raspberry Pi, the RK3328 processor is a Cortex A-53, quad core, 64-bit chip. It can be paired with multiple types of DDR3 and DDR4 RAM, including mobile-optimized LPDDR3L RAM which the Broadcom chip does not support – perfect for tablet and portable device applications. Moreover, the Rockchip processor offers an on-board MALI-450MP4 GPU and a multi-media processor expressly designed to encode and decode 1080P and 4K Video streams and high quality audio streams – perfect for commercial/industrial applications that will have customer and public facing software. On-board HDMI support also eases graphics software and hardware integration.
Designers creating home-video and home-entertainment devices, devices in the new home-assistant category, and IoT enabled devices will find the Rockchip based system extremely beneficial to their designs. It harnesses plenty of power in an efficient manner, especially for multi-media functions.
Product designers working with Rockchip devices also find an advantage in software development, as Rockchip provides open-source software on Github, and maintains a Linux wiki, making it easy and cheap for developers to create and modify software that will work fluidly with Rockchip processors. Contact Estone Technology today to find out more about our newest development boards featuring Rockchip processor technology.