Estone Technology is the first name in innovation for tablets and panel PCs. Sometimes that means the latest in hardware technology, but sometimes it means simple improvements that make a world of difference in utilizing your technology. The newly released PPC-4107 7" Panel PC represents a new level of simplicity. The Power Over Ethernet powered panel with rear-facing ports locks easily into a pre-installed mount, meaning that all owners have to do is plug in any necessary data cables to be up and running.
The convenience of rear-mounted I/O plugs, Power Over Ethernet, and the easy to install mounting case is unbeatable, and eliminates the need for special wiring or specialized labor. Once installed, the computer has an IP65 waterproof front panel with tough, 3mm tempered glass that resists scratches and damage, making it a perfect choice for all types of installations. Users need have no special skills or experience – just pass the appropriate cables through the back of the frame that easily screws into any appropriately sized cavity, plug them into the appropriate I/O ports, and lock the panel PC into place. If changes need to be made or the panel needs to be replaced, it can be removed just as easily.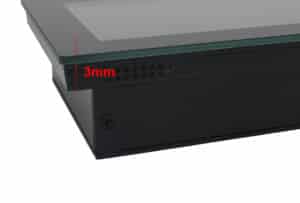 The PPC-4107 features Estone's commitment to technology quality and ease of use. The unit is powered by an ARM Cortex A9 platform NXP 1.MX6 1GHz Dual Lite or Quad Core processor. 1GB of on-board DDR3 RAM and an on-board 8GB NAND flash drive provide memory and storage for the unit, and built-in WiFi and Bluetooth provide connectivity. The unit supports Android 6.0.1, Embedded Linux 3.14 or Debian 8 operating systems, to provide the flexibility you need.
The PPC-4107 has also been designed to serve as a primary display for any device. It includes stereo 1W speakers, available in a front or rear installation of the user's choice, and a bright, 7" Active-Matrix TFT LCD at 1024×600 resolution. The touchscreen is a Projected Capacitive Screen supporting 10-point Multi-Touch. As usual, the panel is designed to stand up to the elements, and will function in temperatures up to 60°C, and humidity up to 90%.
The PPC-4107 was primarily designed for installation in walls, countertops, kiosks, and other solid surfaces supporting recessed panel enclosure. It is especially useful for residential, commercial, and industrial building automation. Learn more about the PPC-4107 on the product page at https://www.estonetech.com/products/industrial-panel-pcs/ppc-4107-7-wall-mount-industrial-poe-panel-pc-hmi-with-3mm-edge-to-edge-tempered-glass-touch-panel/