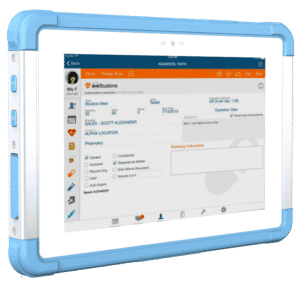 Medical records are now fully electronic. It's no longer a trend – it is the reality. The accessibility, efficiency, security, and cost savings of electronic medical records have long since made paper records a thing of the past. It's now a challenge to find even an independent practitioner anywhere that still uses paper records. However, the transition has come at a cost, as in many offices, notes are still taken by hand and then transcribed or accessed at individual terminals. The cost and feasibility of installing terminals everywhere they might need to be accessed is prohibitive at best, and leaves a lot of expensive computer power unused much of the time. The need for different tools in different parts of the office, such as exam rooms vs pharmacies, create a demand for additional computers as well.
Pocket-Sized Medical Tablet PCs to the rescue. Small tablets that can easily be carried in medical coats and shared among staff, like Estone Technology's 8" MJ-80 Medical Tablet PC, are the solution to many of the issues that make full conversion to an electronic medical office prohibitive. No longer is there any need to ask staff to print off the relevant patient documents before an office visit, or to install a costly connected system in every exam room. Doctors and nurses can simply grab an MJ-80 tablet off a convenient charging dock on their way to an exam room, and pull it out as need be.
Packed with tools, the MJ-80 goes beyond the functionality of a simple consumer tablet. An IP65 waterproof rating and available anti-microbial construction make the MJ-80 perfect for medical office settings, as it can be easily cleaned and disinfected. The rugged plastic and rubber construction protects the device from drops and impacts to MIL-STD-810G requirements, perfectly suited to use in a busy medical environment. An integrated 1D/2D barcode scanner is the perfect solution for pharmacies and scanning in patient files.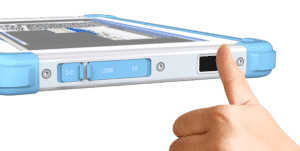 Because patient medical data is sensitive, security is a must. That's why the MJ-80 has been designed with an available Fingerprint Reader built-in. Eliminate the risk of access by unapproved individuals and the hassle of keycards or passwords with powerful biometric security. An available integrated GPS system can also restrict the device to only function in specific places, further increasing security.
The MJ-80 has been designed to work with additional medical tools as well, with an array of input/output options that can connect easily to specialized devices. The MJ-80 is IEC 60601-1 certified and ready to work almost anywhere your practice can take it.
Click to learn more about the MJ-80 8" Rugged Medical Tablet or contact Estone Technology directly for additional information: info@estonetech.com. Samples of the MJ-80 and our other medical and rugged devices are available to help you make the right equipment decisions. Need a customized solution? Estone Technology does that as well. Contact us to find out more.