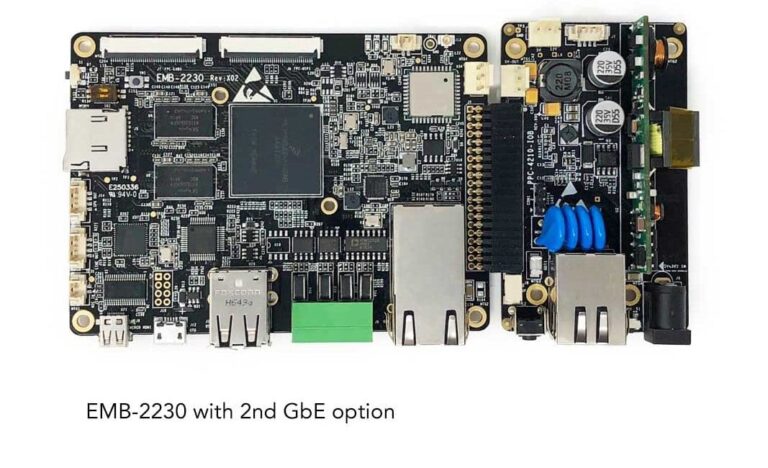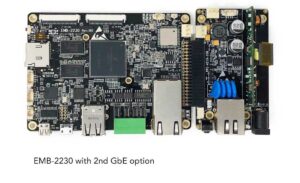 Similar to our popular i.MX6 ARM based EMB-3200 board, the EMB-2230 brings the power and flexibility of an ARM Cortex A9 processor to the IoT devices meant to perform more demanding tasks. Designed for slim Panel PC and Tablet applications , the EMB-2230 sets itself apart with an extremely small, adaptable Pico-ITX form factor, and the inclusion of a low profile 40-Pin PCIe/GPIO expansion connector, as well as two integrated LCD touchscreen and MIPI slim FPC connectors. These features make the new motherboard adaptable to almost any application that require an LCD touch panel, camera and flexible I/O communication, right out of the box.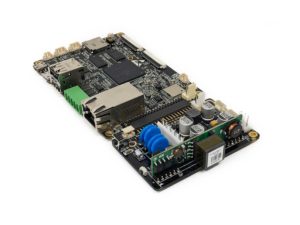 Standard features of the board include 4 USB ports (3 USB 2.0 and one OTG), Micro HDMI, Ethernet, and amplified audio outputs. The board also offers two 40-Pin connectors; integrated Dual Channel 24bit LVDS + I2C, and MIPI DSI/CSI + I2C + I2S for a variety touch screen, camera, voice control (Alexa like) setups, and RS232/485/CAN Bus connectivity via a terminal block for controller and vehicle applications. 8GB of onboard iNAND flash memory are expandable via an included microSD slot to offer plenty of storage for embedded application.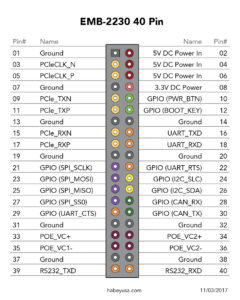 However, where the EMB-2230 really shines is in the integrated proprietary Raspberry Pi-like 40-Pin expansion header. Unlike those found on the maker boards, the expansion header found on the EMB-2230 has been tweaked for industrial applications with PCIe, suitable for CAN Bus, RS-232, UART, SPI, I2C, GPIO and POE uses. Habey offers several modules to work seamlessly with the board via this port, including a PoE (Power over Ethernet) module, and a module to add the second Ethernet port, wide range voltage power input, light bars LED control, ambient sensors, and OS recovery functions. It's also easy to use this connector to add PCIe devices, or specialized modules for controlling motors, switches, and receiving sensor input. To help speeding up time-to-market, Habey offers two touch Panel PC kits for the EMB-2230, in 7" and 10.1" sizes available for order. By combining the Panel PC kits with POE or I/O expansion modules, the EMB-2230 can be ready to tackle virtually any project in no time.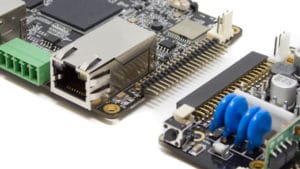 The ease of acquiring and low price point of "Maker" boards like Raspberry Pi, BeagleBone, and others, makes them an alluring option for production designs. However, such boards frequently don't meet the needs of the real-world IoT devices and product roll outs. That's where an industrial level embedded ARM board like the EMB-2230 comes in. Maker boards typically have an unpredictable life cycle, while industrial products are expected to be available for 5 to 10 years. And of course, embedded boards for IoT or industrial products may be exposed to harsh, demanding environments – elements that a maker board like a Raspberry Pi isn't equipped to handle. The EMB-2230 is designed to Habey's rugged, long lifespan specs.
More information about Habey's EMB-2230 pico-ITX board is available in the attached product datasheet, or online at https://www.estonetech.com/emb-2230/.
—
Habey USA is specializes in computer solutions for communications, storage, digital signage, banking, military, vehicle, medical, and point of sale solutions. Habey manufactures Industrial Motherboards with long life-cycle support, Fanless and Small Form Factor PC systems, Panel PCs and HMI systems, Embedded ARM Boards, IoT Solutions, and more.