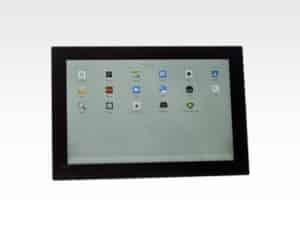 Imagine a complete POE touch panel PC solution built around the newest i.MX8M ARM technology. A touch panel computer with wide-ranging Linux and support, including Yocto Embedded, QT, Wayland, and Ubuntu, as well as Android 8.1 and 9 Support. Estone Technology is pleased to announce the 10" PPC-4310 Frameless Panel PC.
6The PPC-4310 is one of the first complete POE touch panel solutions constructed around an i.MX8M ARM processor with long lifecycle support. The new i.MX8M processor is optimized for industrial control applications, and guarantees more than 10 years of lifespan support. It has been optimized for industrial HMI and control, but is also equipped and designed to look and function well in commercial and residential applications. This new Estone touch panel PC platform offers many options not seen in other systems, including dual core DSP digital MIC input with noise suppression, and acoustic echo cancellation (AEC) , ready for OEM/ODM customization projects with edge-computing voice interaction supports.
The PPC-4310 has been designed for easy integration with different configurations, including 802.3af or at Power Over Ethernet, and a wide variety of I/O options, as well as supports for cameras, microphones, light sensors, and more. Onboard WiFi/BT, RS-232/485 and GPIO ports are augmented by integrated USB, additional PCIe Ethernet and other expansions.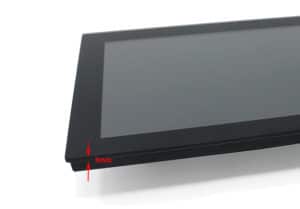 The unit features a high brightness 10.1" IPS screen with 1920×1200 resolution, and strong, 3mm frameless tempered glass front. The frameless design is attractive and simple for use in a variety of settings and products. The entire front panel is IP65 compliant for industrial and demanding installation environment. Operating temperatures from 0°C to 60°C and a bright 400 nits screen make it a great choice any application.
Features of the PPC-4310 Include:
NXP i.MX8M 1.5GHz Quad-Core Processor
ARM Cortex A53 Platform
10/100/1000 Gigabit Ethernet, Supports 802.3af/at POE Power Input, additional second PCIe GbE Optional
Up to 4GB Onboard LPDDR4 RAM
On-Board Wifi/BT/USB Module – 802.11 b/g/n + BT4.0
On-Board NAND Flash Storage
MIPI Display and Camera Interface
Internal speaker and line out
1" Active Matrix TFT LCD, 1920×1200 Resolution, 1300 Contrast Ratio
Supports Android 8.1, Android 9, Yocto Embedded Linux 4.x Kernel, or Ubuntu
Samples are available for testing and evaluation by contacting Estone Technology. Additional product information is available on our website at https://www.estonetech.com/products/industrial-panel-pcs/ppc-4310-10-inch-nxp-imx8m-poe-touch-panel-pc/
Estone Technology is an OEM/ODM manufacturer of rugged computer solutions for vertical industries, specializing in Rugged Tablets and Ruggedized Panel PCs, Embedded Boards, and Industrial Computers.