Selecting and Mounting Open-Frame Touchpanel PCs
In our line of work, software and computer hardware needs flexibility, to support various operating systems and applications. The physical hardware of a rugged computer system needs no less flexibility. Kiosks, industrial equipment, and other devices featuring touchpanel PCs need a computer system that will work with the footprint and overall design planned for the device. In what kind of environment will the device operate? Will the touchpanel be exposed on the outside of the device, or contained within? Does it need a bezel to cover an opening, or does it need to easily accept a bezel over it? Will it be mounted with bolts, or maybe adhesive?
Touchpanel PCs: Open-Frame vs Closed-Frame – What's the difference?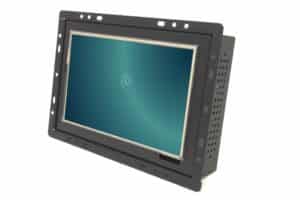 Open-Frame Touchpanel PCs are those that are not completely sealed in their own enclosure. They have a chassis that holds all of their components securely in place, but it is not sealed from dust or debris, has no bezel, and has more access for connecting unique peripherals or power systems. Typically, Open-Frame Panel PCs have a smaller footprint (usually the same size as the screen itself), and integrate more easily into a separate enclosure design. They also often have, or can be modified with, additional or specialized mounting holes or brackets.
Closed-Frame Touchpanel PCs, meanwhile, are what they sound like, and look more conventionally like computers that the average consumer might know. They are fully contained in a plastic or metal enclosure, often supplying them with partial or full water resistance and ruggedness ratings. They typically have their own bezel, making them easy to drop into slots or openings in other equipment cases or mount into wall boxes. Closed-Frame Panel PCs are usually equipped with a specific mounting feature, such as VESA mounting holes – or they may be mounted with adhesive under the bezel, or an additional device that mounts over the top of the panel PC.
What Applications is an Open-Frame Panel PC best Suited For?
Typically, people setting up kiosks, booths, or simple automation systems are going to be less interested in in Open-Frame Panel PCs, because they require additional cosmetic and mounting considerations, and offer adaptability that those projects don't require. Instead, Open-Frame Panel PCs are more likely to be found in embedded touchscreen computer projects ranging from home and commercial smart-appliances to industrial equipment controls. Virtually any product today that is equipped with a smart touchscreen embedded within the device makes use of an open-frame toucbpanel PC. Well known examples include: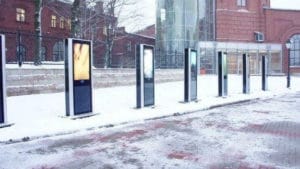 Vending Automation Machines
Smart Home Appliances
Industrial Control Cabinets
In-Car Infotainment Systems
In these applications, the Open-Frame Panel PC can be easily mounted in the specialized device, and covered by the device's fascade, without its own large bezel or lip interfering; and the Panel PC can be easily connected to the device's power supply and peripheral systems.
How is an Open-Frame Panel PC Typically Mounted?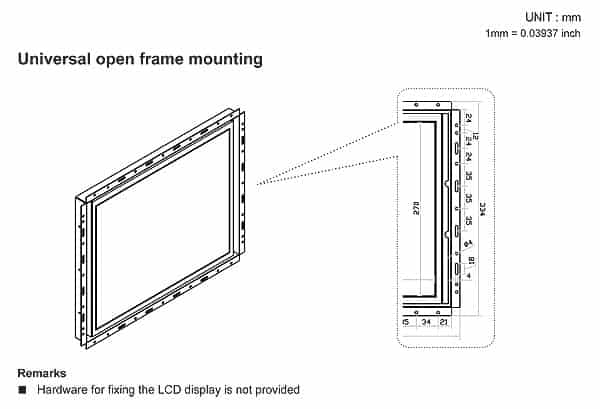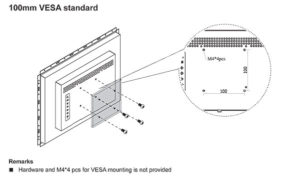 As opposed to Closed-Frame Panel PCs, Open-Frame Panel PCs feature a more flexible, adjustable mounting system. The pattern of holes and slots featured on the front of Estone Technology's Open-Frame Panel PCs is an industry wide pattern known as a Universal Mounting system. These holes and slots are designed to work with commercially available industrial cabinets and machine enclosures, as well as easily integrate with your custom designed equipment enclosures.
Some Open-Frame Panel PCs also feature VESA mounting, for free-floating implementations, where the panels are mounted from the rear on am armature, and can be easily moved and manipulated. Such mounting is more common on Closed-Frame Panels, but is still sometimes seen in others.
Choosing an Open-Framed Panel PC for your Project
Does your project or product need a smart, easily programmed touchscreen interface that can run a variety of software and apps? Does your project or product have a complete enclosure or cabinet into which your Panel PC must be added? If so, an Open-Frame Panel PC may be the right solution for your project. Estone Technology has a variety of great options – Contact Us to discuss your project and what would be appropriate.