When we developed out feature MD-100 tablet, we planned for a huge variety of possible uses, from medical, to industrial, to commercial, across all types of venues. With our clearest, brightest screen available, loads of computing power, and an exceptional number of available modules and tools, we knew that the 10" rugged tablet might be pulled into any sort of duty, from general field work to presentation screen, and beyond.
Because the tablet is so adaptable, we've worked hard to develop additional tools that enhance the usability of the MD-100 platform. Read on below to learn more about some of these available tools.
MD-100 Docking Station & Extra Battery Charger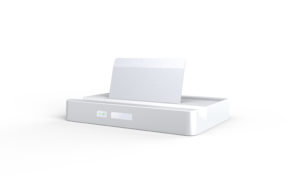 An essential tool for any on-the-go operation, the MD-100 Docking Station delivers peak performance and a variety of features to users. The station not only keeps the unit battery topped up and ready to go, but can also charge an additional, swappable battery, for units equipped with the feature. But the value goes beyond the charge.
The unit turns the MD-100 into a full-fledged desktop computer system, providing connectivity for multiple USB, Ethernet, and RS ports. Simply drop the MD-100 into the cradle and begin using it as a base station computer connected to a full suite of tools, and your organization's various networks. Then lift the tablet away to begin exploring mobility.
MD-100 Wall Dock
Do you need a tablet that can also function as a panel PC, easily accessed, viewed, and controlled from anywhere? The MD-100 Wall Dock has been designed just for you. This unit mounts flush with walls and fixtures, holding the tablet upright and fully visible at all times. Like the standard docking unit, it will keep the battery fully charged, and connect the table to USB, Ethernet, and RS devices as well, making it a great choice for conference rooms, treatment rooms, engineering suites, and beyond. It even offers an optional locking mechanism to keep your tablets secured when in the dock.
MD-100 Rugged Keyboard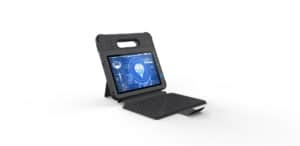 The MD-100 is a powerful, robust rugged tablet that can function as well as any portable PC on the market. Sometimes, to get full value from certain software and applications, a keyboard becomes necessary That's why we developed a portable, wrap-around keyboard for the MD-100 that connects to the device's docking port and brings the usability of a full-fledged laptop to our powerful tablet PC.
The full QWERTY keyboard includes a kickstand for holding the tablet upright in a laptop-like position during use, and a full trackpad with two buttons for those that prefer to operate in laptop mode instead of using the touchscreen or stylus with the keyboard. Of course, the USB ports will still allow the use of wireless mice or other features, as desired.
Taken together, the MD-100 and its many available expansions make a serious, full-fledged computer system for any purpose.