Powerful, Large-Format Touchscreen Panel PCs make Infotainment a Reality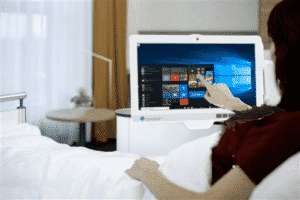 Infotainment, as a term, has been around since the early 1980s, usually used to describe entertaining news or an informational presentation that was also enjoyable. Today, the definition of Infotainment has evolved. In some uses, it describes a website or social media app designed both for information and entertainment – but more and more frequently, it is being used to describe computer hardware specially designed to provide information and entertainment to users under specific circumstances. The term "Infotainment Touchscreen" has come home.
Today, infotainment touchpanel PCs are commonly found in vehicles, digital signage, in hospital patient rooms – even on tables in restaurants. Anywhere an individual might need access to a variety of information or might be idled for a prolonged period and seek out entertainment, a multipurpose touchpanel PC can serve a variety of needs. While those in vehicles or found in dining service POS systems might be small and easily integrated into a confined area, today's large-format touchscreens are capable of much more, bringing infotainment touchpanel PCs to new heights.
Infotainment Touchpanels Move Beyond Vehicle Dash Systems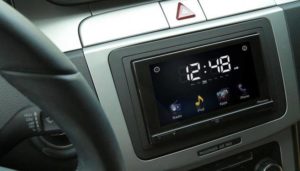 If you need to fit climate control adjustment tools, a GPS, vehicle performance information, and an audio system into a small area, it's impossible to beat a small-profile infotainment computer. That's why infotainment systems found their first real buy-in among auto manufacturers – they were the answer to fitting more features and interactivity in a small space, without sacrificing attractiveness.
However, as time has gone by, the appeal and benefits of having access to many modes of interactivity in one location has become apparent across many industries. And, when not limited by in-vehicle space restrctions, large screens offer so many more opportunities. Today, infotainment screens in sizes over 21" can be found in all kinds of environments. Common uses include:
Hospitals – In patient care and recovery rooms, infotainment panel PCs make perfect sense. The large displays can easily show readings from any medical diagnostic equipment in the room, allow nursing staff to adjust equipment operations and order tests, and also provide patients with entertainment diversions and interactivity, like the ability to order meals and review billing.
Hotels and Hospitality – Imagine replacing the television in every hotel room with a beautiful, large screen infotainment panel PC. On arrival, guests could learn about all of the hotel ammenities, check in and check out policies, review their booking, learn about area entertainment, and even be incentivized to order room service or reserve a table at the hotel's restaurant. Rent a movie, and receive emergency information, all without picking up the phone, or opening a drawer.
Retail and Service Businesses – Today's businesses can't survive without upselling and packaging products and services together. Infotainment POS terminals offer a great opportunity to offer consumers extra opportunities. Restaurants can encourage customers to order appetizers or deserts while they play a group trivia game. Retail stores can create an immersive experience and help customers choose extra products or specialized services that they may not be aware of.
What Features are Important in an Infotainment Touchpanel?
First and foremost, consider what tasks your touchpanel PC will be fulfilling. If it will function as a POS, you may need Magnetic Stripe and Smartcard card readers. If it will perform secure tasks like ordering tests or medication, you may need NFC connectivity or a Barcode Scanner for security. Perhaps you will need programmable hardware buttons for common functions – or perhaps no special features beyond a beautiful, durable touchscreen.
Secondly, consider where your touchpanel will go and how it will be used. Will it be part of a pernanent placement, making flush panel mounting ideal? Will it need to move frequently, or even be used on a piece of mobile equipment, making VESA mounting ideal? Could it be exposed to water, chemical sprays, harsh sun, or the elements? Fortunately, Estone Technology offerstouchscreens to fit all of these use cases.
What infotainment applications could a large-format touchpanel PC meet for your company? Contact Estone Tech today to find out more about what we can do, and discuss solutions for your industry.