RVs and camping vehicles today are a far cry from ages past. They are chock full of powered, connected features. From slide-out bays and awnings to lighting units, heat, AC, pumps and utilities, everything is connected and controllable. This technology has advanced recently with the introduction of efficient power converters that integrate smart equipment circuit breaking switches directly into the power system. In the past, power inverters supplied the necessary 12VDC to charge batteries and operate electrical components throughout the RV, but they required separate switching and control units to activate devices.
No longer. Today's RVs feature power converters that work directly with equipment circuit breaking switches to activate and deactivate devices all in one place – and now Estone Tech's intelligent RV Control System easily brings a greater level of control and monitoring wherever you are.
By leveraging the power of advanced CAN Bus communications protocols, control and use of an RV's devices is simplified and necessary wiring and equipment is reduced. Innovative control features like touchscreens and switch panels can be set up to directly control the devices' intelligent breakers. Because of this, additional methods of RV device control are possible.
What types of RV Device Control are offered with the Intelligent RV Control System?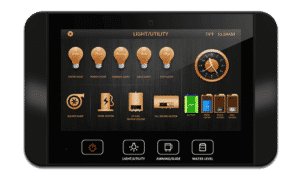 Touchscreen Control Panel – At the heart of the Intelligent RV Control System, this full color panel PC offers an unprecedented level of analysis and function. Easily view and change the status of lights, slideouts, awnings, pumps, tanks, battery levels, and other utilities from one convenient location. The software is easily adaptable to all types of RV equipment and setups.
Mini Switch Panels – Control single rooms or features with mini pushbutton switch panels that fit neatly into their surroundings. These are great choices for bedrooms, bathrooms, or anywhere the need to control just a few RV functions comes up.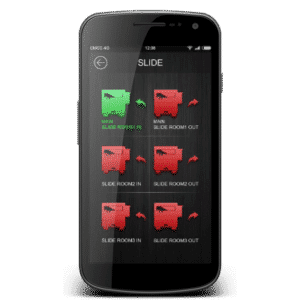 Smartphone App Control – No need to travel to a switch panel or touchscreen to access and control every part of your RV systems. Now you can easily pair your Android or Apple smartphone with your Intelligent RV Control System and have full functionality from anywhere via WiFi or Bluetooth connection. The intuitive interface works similarly to the touchscreen control, so everything in the RV is at your fingertips.
Voice Control – Go beyond buttons or icons, and start truly issuing orders. Best of all, the voice control works without the need for an internet connection, so you can take command of your RV's systems from anywhere.
Custom Wireless Remote – Get the benefits and advantages of smartphone-like control without the complete and comprehensive app. Extend specific slides and awnings or activate specific lights at the touch of a button.
Any device that can be activated and monitored via CAN Bus and the smart breakers can be controlled with the Intelligent RV Control System. Contact Estone Technology to learn more.