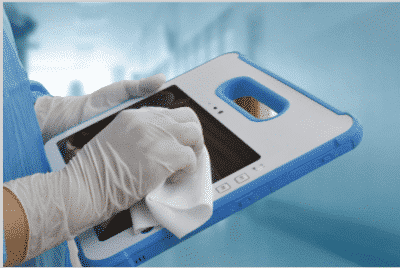 COVID-19, also known as the coronavirus, has suddenly halted traditional methods of life and forced the entire world to adapt to new and safer ways. From social gatherings to keeping your house clean, every aspect of our lives has evolved over the course of the last few months.
Medical tablets are quite useful and powerful in healthcare settings right now. From offering an initial diagnosis to keeping a daily record of patients' history, these tablets are helpful in all aspects of hospitals.
One biggest concern in using medical computers is the viruses &bacterias transmission due to different users, especially at this COVID-19 pademics. Disinfecting tablets in alliance with proper guidelines and methods are extremely important and can help combat the spread of the viruses and bacterias.
Commercial grade tablets, medical grade tablets, and panel PCs are currently acting as heroes among the medical community. These devices limit the ratio of human interaction and keep medical practitioners and medical staff safe from the virus.
Medical Grade tablets are required to be durable, waterproof. Estone's medical tablets are medically certified and fully waterproof, which can be cleaned and disinfected without unit damage.
Why Should You Clean Panel PCs and Medical Tablets?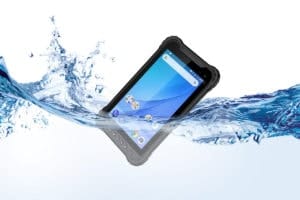 Panel PCs and medical-grade tablets are designed and constructed to survive extreme environmental factors. This construction makes them the best devices for working in physical settings, which are less tolerant, such as current COVID-19 wards and examination centers.
Unfortunately, the risk of damage due to environmental contamination may also increase due to these rugged environments. Contamination may be thought of as an aesthetic concern alone, but over time, such pollutants can cause serious damage to a device's functional integrity and drastically shorten its operating life.
If left unaddressed, these pollutants may also transmit deadly viruses from one user to another. Fortunately, routine and healthy cleaning practices can mitigate that damage, and keep these devices running for a long time without any danger of transmitting disease.
For this reason, it is recommended to clean and disinfect the medical tablets to keep them operating for a long time and to reduce the risk of transmitting any virus via the surface of these commercial grades and medical grade tablets and Panel PCs.
Estone Technology's medical grade and commercial grade tablets and panel PCs come with an IP65 waterproof rating. It is safe to clean them and disinfect them with liquid solutions. Specific cleaning solutions can be used to clean our tablets to enhance lifespan and usage.
Proper Disinfection Guidelines
If a surface is polluted and the chemicals are not removed, under normal conditions of usage, the surface may become more vulnerable to crack and transmit diseases.
Fortunately, diligent cleaning methods can reduce vulnerability to shattering and disease transmission. Here is a compilation of the best cleaning practices to use while disinfecting your Estone Tech mobile tablet.
Do's List
Gently Clean the Tablet or Panel PC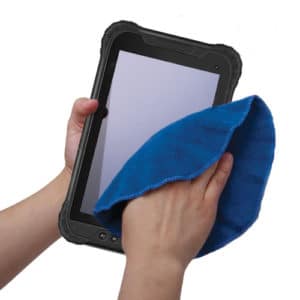 Long breaks between cleanings can result in heavy pollution piling up, and users will have to use unnecessary force to eliminate the contaminants.
Excessive removal force will work to separate contamination from the outside surface, but may also result in the external surface's physical degradation through three-body abrasion.
Frequent cleaning does not cause several layers of contaminants to build up and requires substantially less work in extracting the pollution.
The majority of cleaners produce solvents that can damage adhesives. Special attention must be paid to instructions for the application of cleaning agents.
Clean with a Lint-Free Cloth
When washing your mobile device and tablet or panel PC, use a clean, lint-free cloth, so the tablet's sensitive glass isn't scratched. Lint is a contaminant because it is the textbook concept of three-body abrasion that spreads a hard third body across the surface of a mobile device.
An abraded surface may be created by cleaning rags with rough fibers or previous pollution, which can result in even more pollution and deterioration. To avoid this, you need to use a lint-free cloth.
Eliminate Loose Contaminants First
To extract large, loose pollutants first, professionals recommend using compressed air or a soft fabric. Once loose contaminants have been taken care of, you can move on to a thorough disinfection procedure of the tablet.
A cleaner is meant to be used to scrub stuck-on particles, not residue that can be easily removed.
Apply the Cleaner to the Cloth, Not the Surface
It is strongly recommended that a cleaning solution is not applied for more time than recommended by the manufacturer. It may end up hurting the tablet surface and degrading the overall integrity of your Estone Tech tablet or panel PC. While our tablets and panel PCs are durable and waterproof, the solvents used to disinfect these tablets are quite powerful. Extended use can degrade the quality of the screen.
Several cleaning materials are marked as soft or mild solvents. This is a natural property of cleaning chemicals. Cleaning materials are intended to live for a brief amount of time on the polluted surface to avoid unnecessary exposure. These cleaners and solvents should be wiped off after a short time.
Problems occur when a cleaning agent is kept on the outer surface for a longer period than expected.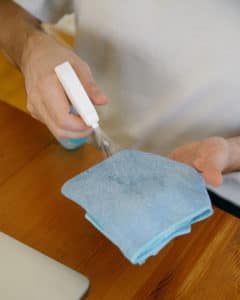 It is recommended that you should apply the cleaning solution to the lint-free cloth rather than directly to your Estone Tech tablet and panel PCs. So, wet the lint-free cloth with the cleaning solution and then wipe the tablet surface with the cloth.
Applying a cleaner straight to the exterior surface renders it impossible to localize the application. A cleaner will more readily find its way through micro-abrasions.
Localization is especially essential because different surfaces are susceptible to, and should not be in contact with, such harsh chemicals. It can be stopped by first adding the cleaner to a fabric (lint-free cloth) and then to the screen.
Wipe off the Cleaner as Directed by the Manufacturer
Wipe the cleaner off as instructed by the manufacturer.
Some cleaning solutions are programmed to evaporate when cleaning is finished, while some allow the consumer to scrub the cleaner off manually.
A long soaking period does not automatically imply a cleaner surface but can result in surface deterioration or migration into the liquid or sealing characteristics (chemicals, etc.)
Don'ts List
Do Not Clean Cracked or Damaged Surfaces
It is recommended that you should not clean a broken or damaged mobile computer or tablet. If the tablet is damaged, please send it for repair to our technicians.
Applying cleaning agents to a surface that has already been compromised causes the solvent to stay in already developed cracks, which may render cracks deeper when the cleaning agent works in a region that is now wider.
Due to the sharp corners caused by cracks, a cracked or broken product poses a serious safety threat for those who use it.
Guidelines from the CDC
The Centers for Disease Control and Prevention (CDC) suggests surface cleaning, accompanied by disinfection, as a safe technique for coronavirus elimination and other infectious respiratory diseases in homes and environmental environments.
On the official website for CDC, there are several guidelines concerning the solvent or the liquid cleaner that should be used for cleaning and disinfecting the commercial-grade tablet or a panel PC. The CDC suggests the following:
The CDC-recommended disinfectant is an alcohol solution composed of 70 percent alcohol isopropyl and 30 percent water.
Avoid using bleach solutions with more than 10 percent because they can affect certain plastics. The guideline from the CDC is around 2 percent bleach in any solution.
Isopropyl alcohol should be 70 percent isopropyl alcohol and 30 percent water. You can also find it on the market under the name of rubbing alcohol.
CDC further provides some guidelines to keep in mind when cleaning and disinfecting medical grade tablets or panel PCs. These guidelines can save your time, money, and resources.
You should ALWAYS USE latex (or nitrile gloves if you are sensitive to latex) gloves for washing and disinfecting surfaces.
You should NEVER disinfect a laptop or tablet when it is turned on or plugged in as it may electrocute you.
You should ALWAYS remove cables, close all openings, and USB ports to prevent the entry of the solution. You can use adhesive tape to protect all openings when disinfecting the tablet.
You should ALWAYS use a clean cloth. You should NEVER use fabrics or items like paper towels or toilet paper. The fabric used for cleaning and disinfecting should be damp, but it should not be dripping wet.
DO NOT use the keyboard or touch screen when the surface is wet. Even though some tablets carry an IP65 rating, it is still advised to wait until everything is dry again.
The screw holes, sensitive area, strips, and finger touch points should ALWAYS be given extra care and attention.
You should ALSO clean and disinfect the unplugged cables.
You should ALWAYS ensure the surfaces are thoroughly dried before turning the system on after cleaning it. No humidity or drops should be visible on the product surface.
Wipe your hands thoroughly and clean them with soap and hand sanitizer after removing the gloves.
Cleaning Products to Avoid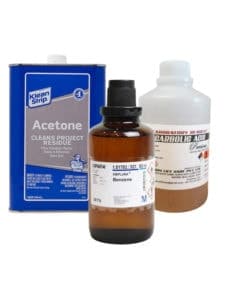 We recommend refraining from using the cleaning agents mentioned below for Estone Tech Tablets. These cleaning agents may cause damage to tablets and should not be used to clean any surface of your device:
Ammonia solutions
Acetone (found in nail polish remover or paint thinner)
Ketones
Ethers
Aromatic and chlorinated hydrocarbons
Aqueous or alcoholic alkaline solutions
Ethanolamine
Toluene
Trichloroethylene
Benzene
Carbolic acid
PDI AF3
Dipropylene glycol n-propyl ether-based chemicals
Proper Cleaning Guidelines
Estone Tech medical and commercial-grade tablets and panel PCs come with an IP65 waterproof rating. These tablets can be easily cleaned and disinfected with an approved disinfectant. However, we encourage exercising caution when cleaning our tablets.
For protective measures, either use a pre-moistened wipe with the already applied disinfectant or spray the disinfectant onto a clean lint-free cloth and clean the device. Spraying the disinfectant directly onto the device can create a trip hazard if too much disinfectant is used. The disinfectant can drip off the device and pool on the ground.
The disinfectants approved for use on Estone Tech medical grade and commercial grade tablets and panel PCs are shown below. The disinfectants are verified and approved for use on housing tablets and commercial-grade tablets, preventing potential damage to the computers.
| | | |
| --- | --- | --- |
| Disinfectant Cleanser | Cleaning Instructions | Brand |
| 5% Sodium Hypochlorite | Wipe the shell with 5% Sodium Hypochlorite while wearing gloves. After wiping, let the shell stand for 5-10 minutes. Wipe with a damp cloth to remove any residual solution and then wipe with a dry cloth. | Multiple suppliers |
| Sani-Cloth HB | Use Sani-Cloth to wipe dirty parts. The device can be used when it is dry. | PDI |
| Sani-Cloth Plus | Use Sani-Cloth to wipe dirty parts. The device can be used when it is dry | PDI |
| Super Sani-Cloth | Use Sani-Cloth to wipe dirty parts. The device can be used when it is dry. | PDI |
| 70% Isopropyl Alcohol | Apply 70% isopropyl alcohol to a soft cloth. Then, wipe down the case, screen, and electrical components. The device can be used when it is dry. | Multiple suppliers |
| 75% Alcohol | Using a soft, dust-free cloth, wipe the solution to clean the case and screen. The device can be used when it is dry. | Multiple suppliers |
| Hydrogen Peroxide | Using a soft, dust-free cloth, wipe the solution to clean the case and screen. The device can be used when it is dry. | Multiple suppliers |
| Viraguard® | Spray Viraguard to a soft cloth and wipe the case and screen. The device can be used when it is dry | Veridien |
| Clorox Wipe Towelette | Using the towelette, wipe the case. The device can be used when it is dry. | Surgipath |
| Super HDQL 10 | Wearing gloves, wipe the case with a diluted concentration of Super HDQL 10 on a soft cloth. Let the solution sit for 10 minutes and then remove the excess solution. The device can be used when it is dry. Be sure to wash hands after using Super HDQL 10. | Spartan |
| Cavi Wipes | Use to wipe on the case and screen. The device can be used when it is dry. | Metrex |
Cleaning the Estone Tech Medical grade tablets using a wipe or cloth dampened with any of the disinfectants or cleaning solutions mentioned above does not harm the touch screen or any other components of our tablets.
Some of these disinfectants, however, may leave a small film on top of the touch screen. Therefore, it is recommended that you try out a small portion from different disinfectants, and see which one best suits your needs.
Bottom Line
We are living in a constantly evolving world, where science guides the way for life. Due to the ongoing pandemic, it is time to strictly adhere to scientifically proven techniques and methods of cleaning and disinfecting the tablets. By following the guidelines mentioned above, you can help prevent the spread of diseases and keep you and the people around you safe.
Click here to contact us if you have any questions or would like to learn more.