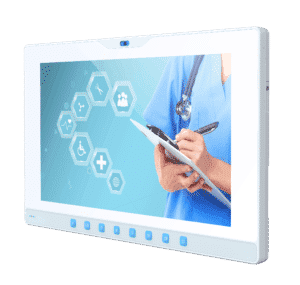 Sometimes, the world between Tablet PC and Panel PC blurs, and that is where the term All-In-One Panel PC comes into play. These devices are fully self-contained, battery operated touchscreen computing devices, roaring with the power of a full-featured desktop or industrial computer, but far more adaptable. Estone Technology's new EM-2100 All-In-one Panel PC is just such a device, optimized for the medical industries. The 21.5" touchscreen computer is now available from Estone Tech with dozens of OEM options.
The EM-2100 has been designed primarily with medical environments in mind, and is available in both white/blue and dark color schemes. It has been designed to work with all types of medical carts, armatures, desk mounts, and other such mounting materials, via integrated 75×75 and 100×100 VESA mounting. Truly, the EM-2100 has been designed to go where you need.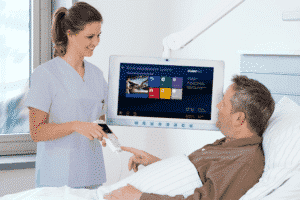 The term All-in-One often doesn't refer to power, and such devices require an available AC connection that may not always be possible or convenient. The EM-2100 has been designed with an optional, hot-swappable battery that allows up to 8 hours of runtime, even away from an AC power source. Even bette, an optional Medically Isolate DC Output (24V, up to 0W) is available for plugging in and using secondary devices without an additional power supply.
Cleanliness is essential in such a device, and the EM-2100 goes a long way – an IP54 front panel easily wipes down clean and disinfects without damage, and an array of standard and programmable pushbuttons are totally sealed and protected from damage due to water or chemical cleaners. The rear of the device is IP-1X so that it can be properly cleaned when need be, and the entire device features an anti-microbial construction that resists bacteria and other harmful growth.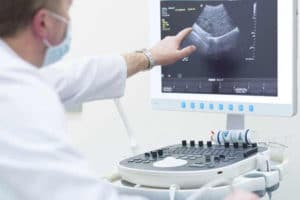 An ultra-bright display and optional DICOM 3.14 compliant display make the EM-2100 a great choice for almost any environment, from the treatment room to individual medical devices. The panel offers up to 500 NIT Brightness, bright enough for use even in extreme lighting conditions. DICOM is a measure of contrast in screens used in medical diagnosis – if you're interested in this technology, just ask one of our representatives.
The panel features extensive I/O options, including RJ-45, RS-232, HDMI, many USB ports, and DP interface. The panel also offers medically isolated ports that can be used to connect other medical devices without risk of damage or surge, including an optional DC out that can supply up to 24VDC of medically isolated power.
The panel is powered by an Intel processor, with options up to Kaby Lake i5 available. The device features a standard 8GB of LPDDR3Ram, and a 128GB SSD for storage, with options up to 1TB. The Windows device supports both Windows 10, and IoT for special functions. You can learn more about the EM-2100 on our site at EM-2100 Product Page.