Meeting the Embedded Computer Industry
Today marks the last day for Embedded World 2019, the highlight of the embedded computing year worldwide. Hundreds of suppliers and thousands of industry professionals come together to share the latest innovations in embedded computing for personal, commercial, industrial, and vertical industry applications. We were thrilled to put together a large booth this year where we could show off the latest Estone Technology innovations, and welcome the public to learn more.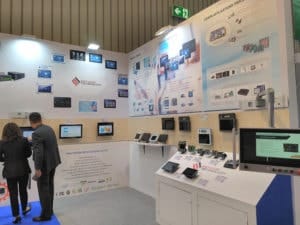 This year, we were excited to present a number of new rugged tablets, rugged panel PCs, and embedded boards for attendees to try out. Both our Rugged MD-100 tablet and Medically Certified MD-100 tablet versions were on hand, as well as the Medically Certified MT-140 tablet, and the fully Rugged MJ-100 android tablet. Visitors were able to hold these products in their hand and experiment with them. All products are ready for ODM production and customization now.
This year Estone Technology has prioritized better, more feature rich, and higher quality tablets. Our latest rugged tablets now feature longer life batteries for longer runtimes, available anti-fingerprint and anti-glare screen coatings, security features like fingerprint scanners and CAC card readers, and more.
IoT Best in Show Honorable Mention – EMB-2238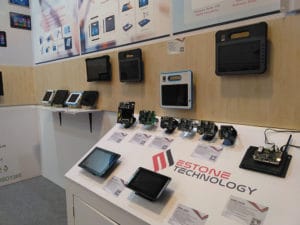 Though we didn't take home top prize, Estone Technology is thrilled to have received an Honorable Mention award for our EMB-2238 from the folks at Embedded-Computing.com. The EMB-2238 was entered in the AI/IoT category, competing alongside devices from manufacturers like Intel, Beagleboard, and more. Visitors to our booth were able to view our new board in action, processing live speech without the need for internet access.
Up next come meet us at the Intel Show from March 19-21st in Aurora, Colorado!