Ever since portable tablets entered the marketplace, medical professionals have been seeking ways to use them to improve patient care. Initial concerns about HIPAA compliance and protecting patient privacy have been largely alleviated by network security improvements and specific healthcare apps. Today's medical tablets are used to access pharmaceutical information, collect patient data, and share day-to-day information between providers and patients from any location.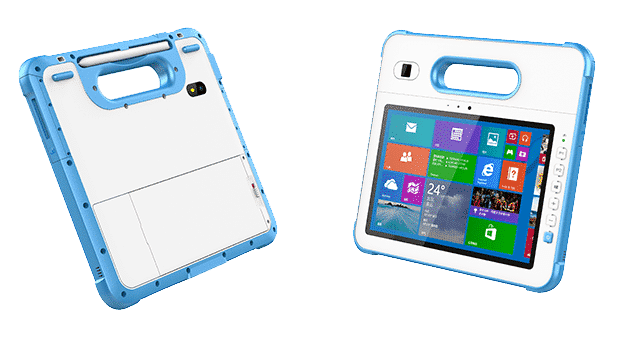 Medical-grade tablets differ from consumer tablets in several key ways:
They are more rugged, waterproof, and capable of withstanding a fall or drop from up to four feet.
Many tablets for medical use include additional hardware that can be used to read barcodes, cards, or RFID chips for tracking use of drugs or supplies.
Medical-grade tablets often incorporate antimicrobial coatings that reduce the transmission of harmful pathogens.
Medical Grade Tablet Applications
Mobile health solutions that utilize medical grade tablets are becoming standard in many areas of patient care. Five notable areas where medical grade panel PCs and tablets have become more common include:
1. Emergency Response
EMTs can share real-time data with hospitals and instantly access patient records while en route. Secure 4G networks are used to transmit data and service will likely improve as 5G networks become more widely available in the future. In some cases, emergency medical personnel could even connect directly with medical providers for assistance with diagnostics or treatment recommendations.
2. In-Patient Care
Patients admitted to medical facilities can use medical tablets with multi-touch screens from their hospital beds for requesting assistance, asking questions, reviewing hospital policies, changing their entertainment options, ordering meals, and viewing or paying medical bills. By organizing all these features in one touchscreen device, hospitals cut down on clutter and costs associated with the current array of single-use products that patients use to accomplish these tasks.
Tablets used by patients in a medical setting can connect via Bluetooth or Wi-Fi to minimize strain on data networks. These devices are also waterproof and anti-bacterial, so they can be safely sterilized and reused.
3. Medical Carts
As nurses and doctors move between patients, they need fast access to updated data and patient records. This has traditionally been difficult and inefficient with stationary computer workstations, but tablets mount easily to medical carts with standard VESA mounting hardware. A medical cart PC or tablet can be easily moved from room to room and used to take notes, access records, write and send prescriptions, and more.
By using the tablet in real time, medical professionals cut down on the amount of data entry needed and can spend more time with each patient. Human error caused by difficult-to-read handwriting may also be eliminated as patient charts go digital.
4. Imaging and Diagnostics
Medical tablets are available with integrated hardware options such as scanners, scopes, and other medical instruments that can be useful in patient diagnosis. These medical grade devices also have the necessary software and additional storage space for image files generated by diagnostic imaging equipment such as X-Rays and MRIs.
Radiologists can analyze images by zooming in, changing angles, and adding notes. Meanwhile, doctors and nurses can access the images more quickly without waiting for printouts.
At Estone Technology, our DICOM Tablet supports imaging and diagnostics with features such as:
Feature packed DICOM medical imaging
GSDF 3.14-Compliant DICOM Grayscale Display
Support for all types of medical diagnostic imaging
Extremely bright 800 NIT display with integrated ambient light sensor for automatic adjustment
Stable, Precision-Controlled Luminescence
Battery life up to 8 hours for full-shift reliability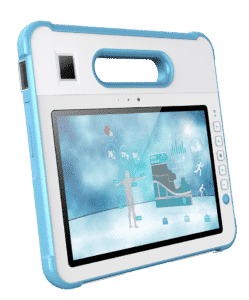 Download Medical Grade Tablet Product Brochures
5. Labs and Pharmacies
In busy laboratory and pharmacy settings, it is imperative to keep accurate records. Electronic health records accessed via medical tablets make it easier to keep data organized and in one place. With barcode or RFID scanners, drugs can be tracked in and out of inventory.
Having easy-to-access records also increases the accuracy of lab reports and reduces prescription errors, which University of California researchers discovered make up 70% of all medication mistakes.
Use of tablets in the lab or pharmacy can increase accuracy in billing by recording information at the sales point. Insurance information may also be accessed quickly and prescriptions filled in less time.

Additional Features of Medical Tablets
Medical grade devices can be customized to meet most healthcare environment needs. Their rugged construction makes them resistant to spills, moisture, heat, dirt and grime, bacteria, and rough handling and drops.
At Estone Technology, our tablets are available in a range of sizes from 8-15 inches. With a waterproof, antimicrobial chassis, they are suitable for use in cleanroom environments as well.
Other options and features for tablets may include:
Built-in barcode, NFC, and RFID scanners
Swappable batteries that can be changed without losing power
Bluetooth, Wi-Fi, and/or secure 4G network connectability
Computer assisted coding system (CACS)
Digitizer to convert writing and images into digital formats
Finger print security login
Optional outdoor LCD displays
Drop/shock resistance up to four feet
Estone Technology's medical-grade tablets are certified to meet IEC 60601-1 and IEC 60601-1-2 standards, which implement stringent performance requirements for key pieces of sensitive medical equipment. Our tablets are lightweight, easy to use, and work with more than 97,000 medical apps that allow just about any functionality.
Medical PC Solutions from Estone Technology
Medical grade tablets are used for a wide range of health care applications. Estone Technology's line of medical-grade tablet devices have been designed and manufactured with care by a company with more than a decade of experience in creating medical and small form factor PCs. We are also ISO 9001-certified for quality management and ISO 13485-certified specifically for medical device manufacturing.
For more information about our medical-grade tablets or other products and capabilities, please contact us today.