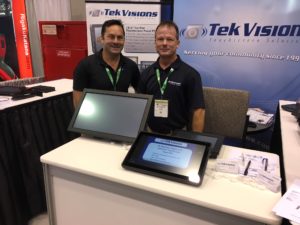 Some of the best things about of being an electronics OEM are the great companies we get to work with. It's always a pleasure when a company comes to us with a vision that we can help them design and execute. So we were pleased to see partner TekVisions at this week's International Manufacturing Technology Show presenting their new "Marathon" 14-inch semi-rugged PC, developed and manufactured in cooperation with Estone Technology.
TekVisions has dubbed the 14" tablet "Marathon" due to its massive 22 hour runtime. The Marthon represents the largest device in their Mobile Devices category.
IMTS is always one of the highlights of the year for manufacturing companies. This year's event is being held at Chicago's McCormic Place, and runs through Saturday, September 15th. IMTS expects more than 115,000 attendees at this year's event. Dozens of exhibitors will be showing the latest in manufacturing technology, while classes and other opportunities for learning keep everyone involved.
Estone Tech and our partners attend many trade shows and other events throughout the year. Keep an eye on this space to learn where we'll be next.