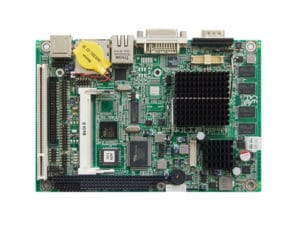 HABEY USA, a leading manufacturer of embedded computer and server storage products, today announces EMB-4650, an EPIC form factor (165mm × 115mm) fanless embedded board based on the Intel Menlow chipset with Atom Z510 processor is available for resellers, system integrators and OEMs. First released to Intel for the 2010 Intel Cup Embedded System Design Contest, the EMB-4650 made its debut to hundreds of university students for building embedded systems for the competition last year. At the contest, systems built based on the board EMB-4650 boards include robots, voice reorganization systems, 3D video conferencing systems, industrial control systems and much more.
The low power Menlow Intel Atom chipset has been developed for mobile and other low power small form factor applications. It only provides two single-lane Gen1 PCIe interfaces. This means it has no PCI ports and a very limited set of I/O capability. The EMB-4650 provides a perfect platform for those applications that will take the advantage of the latest Intel Atom technology and still need legacy connections like PCI, mini-PCI or PC/104 (ISA) for various endpoints like modems and codecs that have not been implemented in PCIe native flavors.
Click here to the product page for more details.