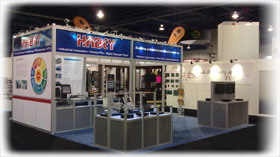 Dear partners, customers and new friends of HABEY USA,
Thank you for visiting at our booth at CES 2011! We enjoyed the many inspiring conversations, and we were impressed at the number of visitors to our booth and the great interest in our products.
Now we are offering our CES guests the opportunity to experience for themselves the benefits of HABEY's ultra-compact embedded PCs. Click this link to send us an email, you are eligible for a special sample price of our BIS-6620 with Intel Atom Z510 processor plus a free 1GB DDR2 Memory installed. We will also preinstall an evaluation copy of Windows Embedded Standard 2009 or Windows Embedded Standard 7 at your choice with the latest Intel EMGD driver for 1080p HD video playback if you order CF, SSD or HDD together with the sample unit. We look forward to your feedback on our embedded platforms, and we encourage you to share these attractive offers with your customers and partners.
Thank you again for your interest in our innovative products! We will contact you soon to discuss your specific needs.
Best Regards,
The HABEY USA Team