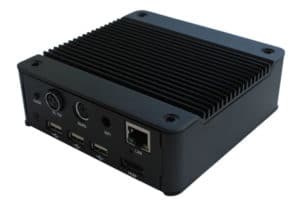 HABEY USA, a leading manufacturer of embedded computer and server storage products, today releases BIS-6620-IV, a new addition to the BIS-6620 ultra-compact fanless PC family based on the Intel Atom Z5xx processors. It is available for sale to resellers, system intergrators and major online retailers. This new model is integrated with a HDMI 1.3 port with digital audio. It also supports Microsoft's Windows Embedded Standard 7 and compatible with Intel's latest Embedded Graphics Drivers (EMGD). Configured with DXVA support media player, the BIS-6620-IV is the best Intel Atom platform that can take the full advantage of the Intel ultra-low power US15W chipset's GMA500 HD video hardware decode capability, supporting full HD playback of .mkv, .mp4, .mov, .flv and more video formats.
At just 4.5″ x 4.5″ x 1.5″, this quiet, tiny-but-mighty Atom platform is packed with features you can imagine: Intel US15W SCH chipset with GMA 500 graphic capable of full 1080p HD hardware decoding, one DDR2 SODIMM slot supporting up to 2GB of RAM, one 1.8″ SATA HDD or SSD drive bay with micro-SATA connection, five external plus one internal USB2.0 ports, HDMI port output up to 1920 x 1080, PS/2 keyboard/mouse port, built-in CF socket and SD reader, High Definition audio, one Gigabit Ethernet port, WiFi option, 12V DC power input and support for Microsoft Windows XP Embedded, Windows XP, Windows Vista and Windows 7, Linux and Windows Embedded Standard 7 operating systems.
Click here to the product page for more details.