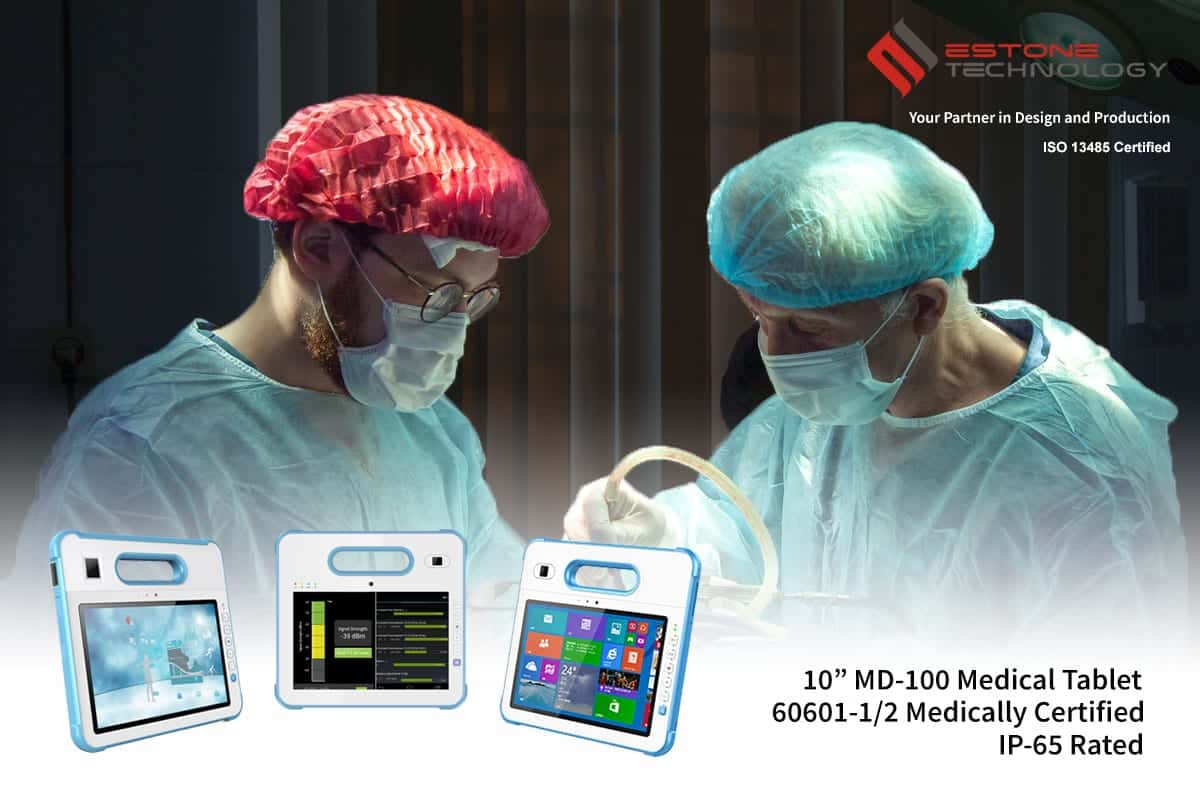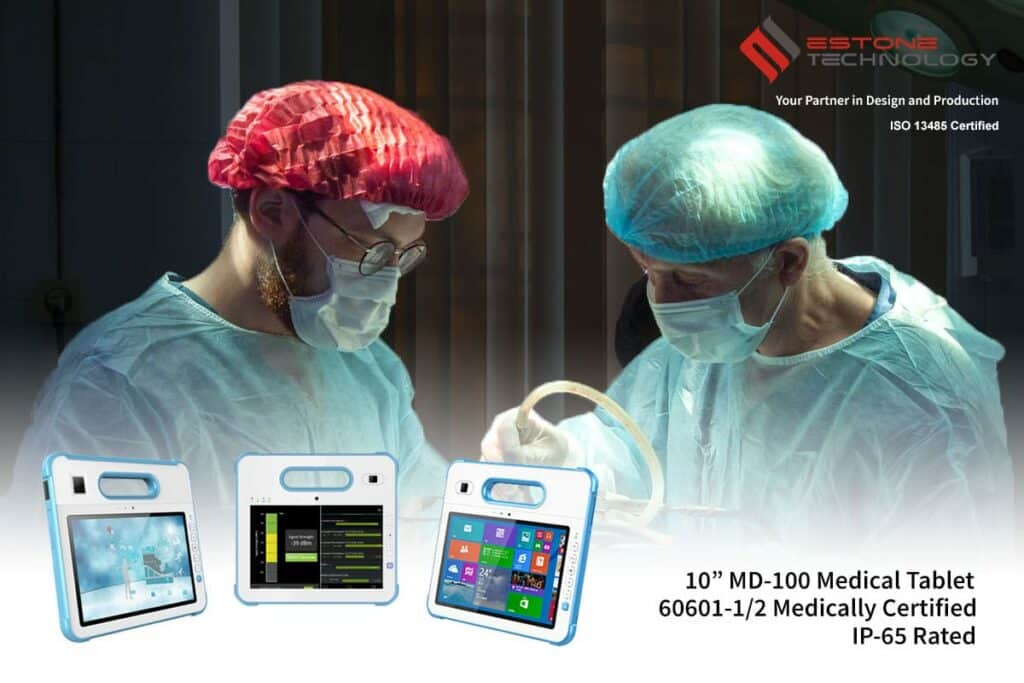 Estone's IEC 60601-1/2 Certified MD-100 can handle any type of medical matter. With incredibly fast processor options, hot-swappable batteries, antimicrobial coating, waterproof design, drop-in docking, and an array of other impressive features, the MD-100 is our best combination of options and the right choice for healthcare professionals. It can be easily disinfected to help maintain safety measures for any type of healthcare setting.
IP-65 Rated: Fully Rugged and Waterproof
The MD-100 is designed for tough hospital situations, with MIL-STD-810G standards for drop protection, and IP-65 rated water resistance. I/O ports are externally sealed to prevent any internal damage.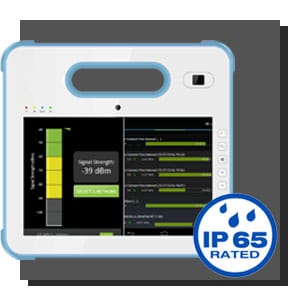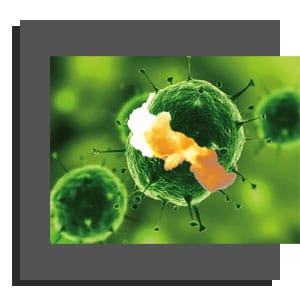 Antimicrobial Coating
The antimicrobial properties on Estone's medical-grade tablets prevent surface contamination and decrease the growth of microbes, bacteria transmitting from one to another through the surface of the tablets. When multiple people use the MD-100, rest assured knowing that the antimicrobial coating is hard at work preventing further contamination.
Easy Cleaning and Disinfection
The MD-100 can be easily cleaned and disinfected with common cleaning products. Easy disinfection allows for more efficiency in medical settings and helps to prevent any contaminants from spreading. Because the MD-100 features an IP-65 rated waterproof design, no components will be damaged during the cleaning or disinfection process. Click here to see our article regarding the right cleaning procedure for your situation.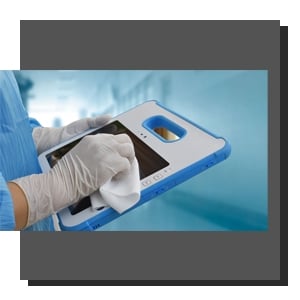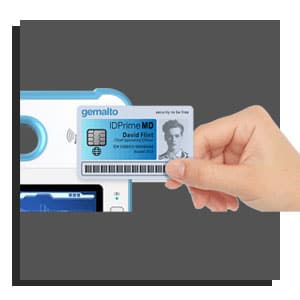 Security
When a device is constantly being handled by a multitude of people, security is of utmost importance. The MD-100 features a fingerprint scanner and Smartcard reader, increasing efficiency and ensuring sensitive information is protected.
Powerful Computing
The tablet features the newest Intel 7th generation Kaby Lake Core i5 or i7 processors or the low power Apollo Lake N4200, 8GB or 16GB RAM, and up to 512GB of internal SSD storage. It is extremely powerful and energy-efficient.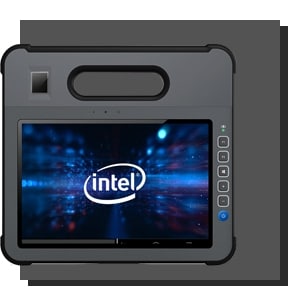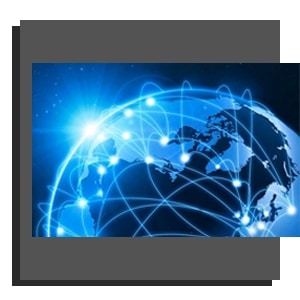 Unlimited Wireless Connectivity
Take the entire office with you, no matter where you go in the field, with complete wireless connectivity, including WiFi, Bluetooth, and blazing-fast 4G LTE connectivity, adaptable for your choice of carriers. Information can be accessed anywhere and at any time.
Related Products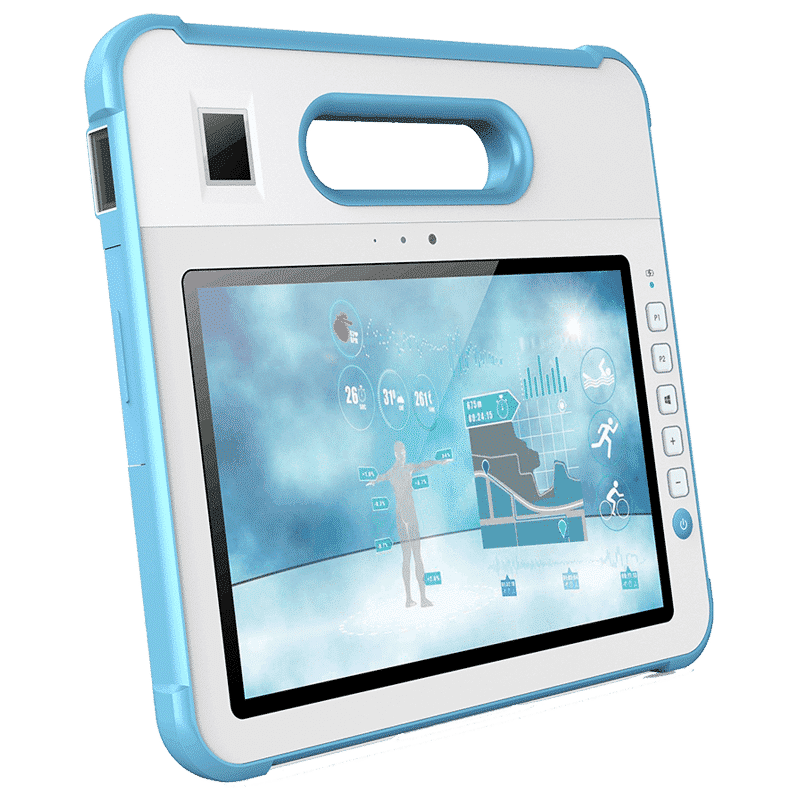 About Estone Technology
Estone Technology is an industry leader in Design & Manufacturing Services for medical and other ruggedize computing embedded applications. We build Intelligent products with a wide range of versatility, including Rugged Tablets, Smart Panel PCs, Enabling Software, and AI modules.
We offer a full suite of services from design, engineering, manufacturing, software, App, to AI integration, enabling you to deliver the latest technologies to the market quickly and efficiently.
Headquartered in the US, with the sales office in Europe and manufacturing facilities in China, Estone brings technology solutions to a breadth of industries, including medical, IT, field services, public safety, and home automation.