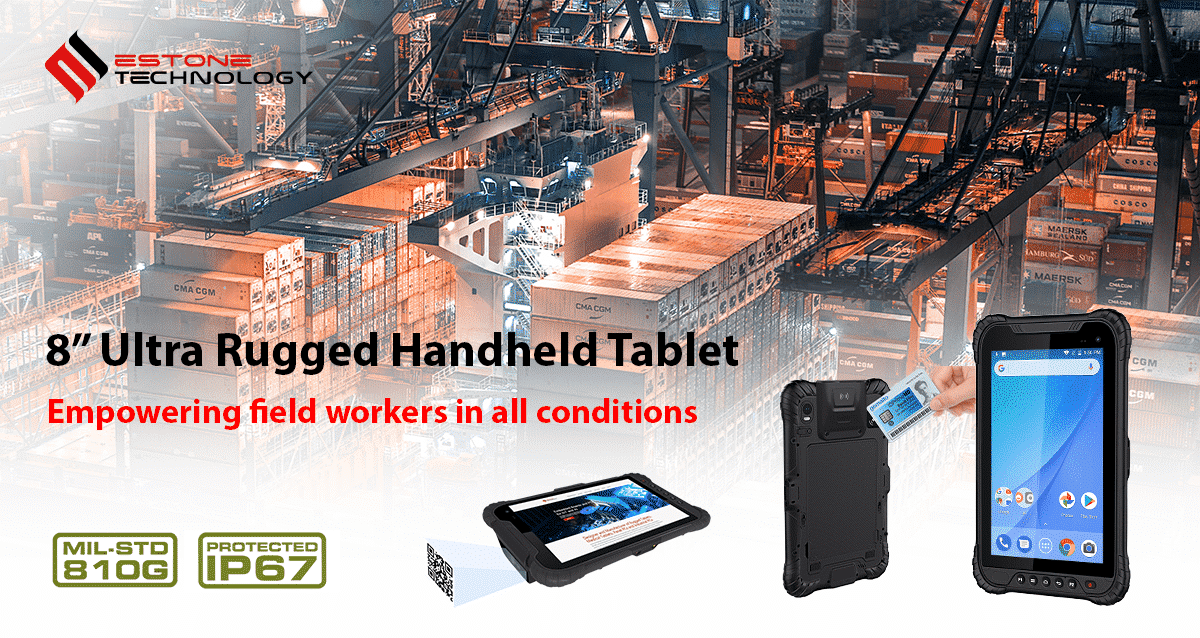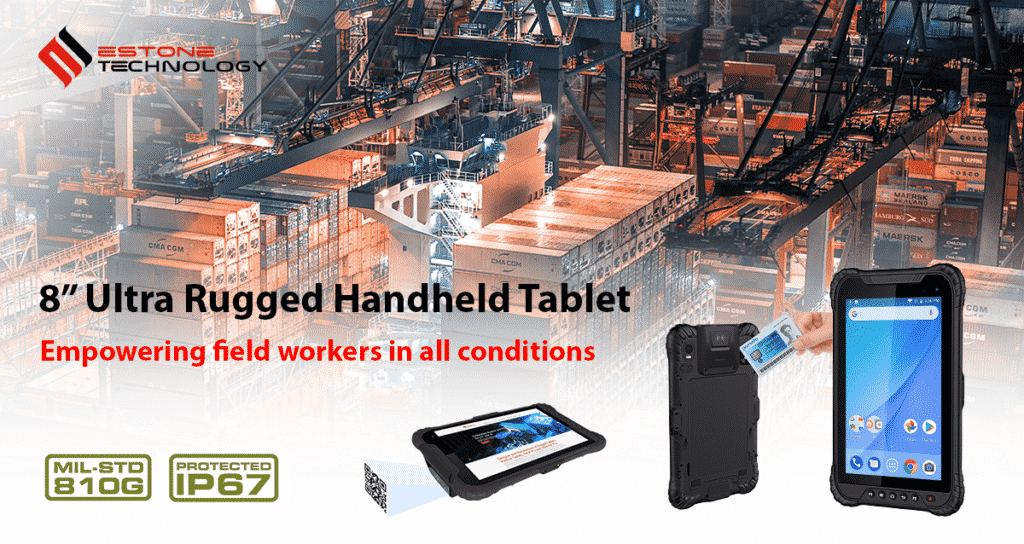 Estone Technology is pleased to announce the new 8" Ultra-Rugged, Waterproof Android Tablet UA-80. The UA-80 Integrates HF, UHF RFID Reader, and barcode Scanner and for data capture; the device is ready for OEM/ODM design and manufacturing. It is a purpose-built, application-specific handheld rugged tablet, empowering field workers fulfilling all the tasks of in healthcare, construction, oil and gas, logistics, and more.
Estone's UA-80 is powered with a Fast Octa-core MSM8953 Qualcomm Processor with the flexibility needed by professionals who run processor-intensive applications in the field. The processor is backed with 4GB of system memory (RAM), allowing more demanding tasks, fast processing, and more programs to run at once on the device.
Fully rugged, full IP67, and 4ft Drop/Shock Protection (MIL-STD-810G compliant), the product withstands the harshest environment with drops, dust, water, falls, and vibration.
Having a sunlight-readable LCD with high resolution and brightness, and daylight screens with anti-reflection and an anti-glare coating, this rugged Android tablet is readable in all types of weather and sunlight, and it can be viewed in any kind of light from a wide range of angles.
UA-80 is the only rugged tablet with integrated HF and UHF RFID readers, and bar-code scanner, enabling data collection and seamless communication. It is a powerful tool for mobile workers to read various RFID tags and scan bar-codes in the field for accurate and efficient assets and inventory identification.
With complete wireless connectivity, including WiFi, Bluetooth, and blazing-fast 4G LTE Connectivity, field workers can access or exchange data in real-time, ensuring safety, efficiency, and reliability. GPS is also built-in for location tracking.
There are many accessory options available with the UA-80 rugged tablet, including docking stations, desktop cradle, hand strip, charge dock, and vehicle dock, bringing efficiency and convenience.
UA-80 is designed for retailers, field service providers, healthcare, transportation, and logistics companies in all-weather conditions. Its high IP rated waterproof features, and rugged exterior makes it easy for disinfection and cleaning, empowering the healthcare professionals and field service workers combating the COVID-19.
Highlighted Product Specifications
8″ Ultra Rugged Android Tablet
Integrated both HF and UHF RFID Reader
Fast Octa-core MSM8953 Qualcomm Processor
Android 8.0 Operation System
Sunlight readable screen with High Resolution 800×1280
IP67 Water and Dust Proof
4ft Drop/ Shock Protection-MIL-STD-810G Compliant
Optional Barcode Reader
For more information about UA-80, please click here.
For inquiries, please click here.
Estone Technology is an OEM/ODM manufacturer of rugged computer solutions for vertical industries, specializing in Rugged Tablets and Ruggedized Panel PCs, Embedded Boards, and Industrial Computers.
Please click here to visit more of our products.